Doom 3 takes advantage of the latest videocard technology and pushes the processing power of the CPU to its absolute limit. At its highest setting, Ultra quality, texture sizes pass the 500MB mark which means even tomorrow's videocards will have a hard time running everything. The frame rates in the game itself are locked at 60 fps so anything above that point is wasted. Each test is run three times with the third run being recorded.
Doom3
LQ 640x480:
FPS
Ranking
Albatron K8X890 Pro II (K8T890 200/400)
125.7
ECS RS480-M (RS480 200/400)
118.6
ECS KA1-MVP Extreme (Rxpress 1600 200/400)
121.3
Chaintech Zenith VNF4 Ultra (NF4 Ultra 200/400)
124.7
ABIT AN8 32X (NF4 SLI x16 200/400)
123.9
DFI LANPartyUT NF4 SLI-DR Expert (NF4 SLI 200/400)
127
DFI LANParty NF4 SLI-DR (NF4 SLI 200/400)
126.9
Epox 9U1697 GLI (M1697 200/400)
113.6
Doom 3 framerates are good... but the EPox 9U1697 GLI comes in last among this suite of motherboards.
Quake 4 is the latest shooter from ID and is based on the Doom 3 engine. Tweaked to for more eye candy, Quake 4 promises to be tougher on videocards and systems than its predecessor was. Quake 4 also does not have a 60 fps limiter like Doom 3, with the Ultra setting, graphic textures can surpass the 500MB mark! Each test is run three times and with the third run being recorded.
Quake 4
LQ 640x480
FPS
Ranking
ECS RS480-M (RS480 200/400)
122.7
ECS KA1-MVP Extreme (Rxpress 1600 200/400)
125.6
ABIT AN8 32X (NF4 SLI x16 200/400)
127
Epox 9U1697 GLI (M1697 200/400)
126.6
In the last benchmark of the day, we see that the Epox 9U1697 GLI performs quite well and keeps up with the competition nicely. Quake 4 is most certainly a videocard benchmark, but it's good to see the ULi M1697 chipset holds its own with respect to the PCI Express sub-system.
ULi goes out with a bang
AMD leveled the chipset playing field by integrating the memory controller into the processor. This changed the way CPUs and chipsets operated, and also meant that the difference between high end chipset and entry level models was a lot less; basically changing chipset performance into chipset features. This is excellent news for anyone on a budget, yes you too can get a fast machine without spending a lot of money!
Overall nVIDIA has a pretty firm grasp on the AMD chipset market although it doesn't have a true entry level chipset, gobbling up ULi gives it immediate expertise in that field. What makes the situation sweeter for nVIDIA is that in the last year or so ULi has been on a roll and has dramatically improved its chipsets.
The Epox 9U1697 GLI motherboard that passed through the PCSTATS test labs is based on ULi's M1697 chipset which will most likely be its last AMD Athlon64 K8 chipset. Compared to the competition, ULi's M1697 certainly doesn't look like a budget chipset. It's features are comparable with all Athlon64 platforms, it supports dual videocards (non-SLI) and even adheres to the Serial ATA 2.0 spec. With a retail price of $85 CDN ($77 US, £41GBP), the Epox 9U1697 GLI motherboard certainly won't break the bank either.
The ULi M1697 Chipset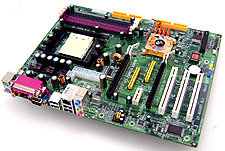 The Epox 9U1697 GLI was overall a decent motherboard and fairly easy to use. The ULi M1697 chipset does not generate much heat so you can replace that noisy fan with something that's a bit quieter if you'd like. The layout of the motherboard is straightforward, and that's one area where Epox has always excelled. With two physical PCI Express x16 slots, users can hook up more than two monitors at a time provided both slots are populated with graphics cards. SLI is not supported however.
In terms of performance the Epox 9U1697 GLI was good. The board performed close enough to nForce4 SLI type boards like the ABIT AN8 32X and DFI LANParty UT NF4 SLI-DR Expert in office style applications. 3D was a hit and miss. Sometimes the Epox 9U1697 GLI was as fast, sometimes it was a bit slower. The differences were generally small, so most likely you won't notice for its sticker price.
Overclocking was one area where the Epox 9U1697 GLI really did well and the motherboard was able to hit 306 MHz with relative ease! Even many high end overclocker friendly motherboards have a difficult time hitting the 300 MHz mark, it's pretty amazing that this budget board can break that barrier!
Just because you're on a budget doesn't mean you have to settle for second best. The Epox 9U1697 GLI is a bit bare in terms of extended features, and the box is light, but it certainly doesn't lack much when it comes to usability.
Find out about this and many other reviews by joining the Weekly PCstats.com Newsletter today! Catch all of PCSTATS latest reviews right here.
Related Articles
Here are a few other articles that you might enjoy as well...
- Asus M2N32-SLI Deluxe nForce 590 SLI AM2 Motherboard Review
- Biostar TForce 6100 AM2 Motherboard Review
- Foxconn 975X7AA-8EKRS2H Intel 975X Motherboard Review
- Gigabyte GA-8N-SLI Quad Royal Motherboard Review
- ASRock 939SLI32-eSATA2 ULi M1695 Motherboard Review
- ECS KA1-MVP Extreme Xpress 1600 Motherboard Review
- MSI K8N Diamond Plus nForce4 SLI x16 Motherboard Review
- ECS 945G-M3 Motherboard Review
- ECS C19-A SLI nForce4 SLI Intel Edition Motherboard Review
- ABIT AN8-32X nForce4 SLI x16 Motherboard Review