For a new company (even if it's a spin off) to break into the computer industry is difficult. ASRock has been able to do just that, and quite well by most accounts. ASRock motherboards are readily available from every major online retailer and motherboards like the 775XFire-ESATA2/A/ASR only enhance its reputation. With a retail price of $90 CDN ($78 US), the ASRock motherboard offers a heck of a value for those on a budget.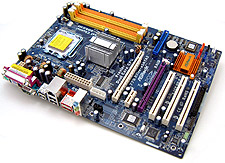 The ATX ASRock 775XFire-ESATA2/A/ASR is pretty straightforward to use although novice users might have difficulty installing the motherboard since it lacks adequate on-board labelling. Considering all the money one would save though, it shouldn't be a problem.
The ASRock 775XFire-ESATA2/A/ASR is a no frills board although it does support ATi's CrossFire technology which allows users to run two ATi videocards at the same time. That feature was not tested since we do not have any CrossFire videocards (Hello ATi?).
Probably the coolest feature of the ASRock motherboard is its eSATA2 support which allows Serial ATA devices to be connected externally. Compared to the USB/IEEE 1394 competition, Serial ATA blows both away in terms of bandwidth. It truly allows one to use a hard drive externally without worrying about speed or massive CPU utilization. With the ability to run even the OS hard drive externally, users who need absolute data security can place their hard drives in a safe or another secure area.
Experts Tip: Set CPU Fan Speeds in the BIOS

Modern Intel CPU fans can make quite a racket, but luckily most motherboards support fan throttling. The ASRock 775XFire-eSATA2/A/ASR motherboard supports this feature as well but unfortunately it is disabled by default. To turn on ASRock's CPU Quiet Fan option, users must enter the BIOS to change a couple of settings.

At system POST, press the F2 key to enter the BIOS. From there go to the "H/W Monitor" section and at the bottom of the screen is the "CPU Quiet Fan" option. Set it to "Enable". After that is done, change the "Target CPU Temperature" to the maximum temperature you would like your CPU to run at with the fan in quiet mode. Finally change the "Target Fan Speed" option to "Fast", that ensures that the fan operates at the fastest speed when the CPU is overheating. After that's done press F10 to save and exit from the BIOS. Now the CPU fan will throttle itself down and only increase fan speed when the motherboard senses the CPU is running too hot.

Comments and Feedback? Suggest a Tweak.
In terms of performance the benchmark numbers speak for themselves. The ASRock 775XFire-ESATA2/A/ASR kicks some major butt. In every benchmark that was run, the ASRock motherboard would come out in the top 3 and 3D results were even more impressive. Many of the 3D benchmarks had to be rerun several times to verify the outstanding results... Overclocking on the other hand was not ASRock's strong suit. A maximum speed of 232 MHz is not bad for a budget motherboard, but perhaps in the future ASRock can implement more detailed overclocking and voltage options in the BIOS.
Ultimately the ASRock 775XFire-ESATA2/A/ASR motherboard is a good match for anyone looking for an entry level socket 775 platform with a lot of power for office applications and content creation type work. The ability to attach Serial ATA devices externally and its excellent 3D performance just make the package sweeter.
Find out about this and many other reviews by joining the Weekly PCstats.com Newsletter today! Catch all of PCSTATS latest reviews right here.
Related Articles
Here are a few other articles that you might enjoy as well...
- Epox 9U1697 GLI ULi M1697 Motherboard Review
- Asus M2N32-SLI Deluxe nForce 590 SLI AM2 Motherboard Review
- Biostar TForce 6100 AM2 Motherboard Review
- Foxconn 975X7AA-8EKRS2H Intel 975X Motherboard Review
- Gigabyte GA-8N-SLI Quad Royal Motherboard Review
- ASRock 939SLI32-eSATA2 ULi M1695 Motherboard Review
- ECS KA1-MVP Extreme Xpress 1600 Motherboard Review
- MSI K8N Diamond Plus nForce4 SLI x16 Motherboard Review
- ECS 945G-M3 Motherboard Review
- ECS C19-A SLI nForce4 SLI Intel Edition Motherboard Review
- ABIT AN8-32X nForce4 SLI x16 Motherboard Review
- Foxconn WinFast 6150K8MA-8EKRS Motherboard Review
- ASRock 939NF4G-SATA2 Geforce 6100 Motherboard Review