Overall the layout of the ASRock 775XFire-ESATA2/A/ASR motherboard is good considering that it's slightly thinner than most ATX motherboards at 30.5 x 21.8 cm in size. ASRock assigns individual colours to the Serial ATA II channels which is useful for correlating which slot is which with the user manual.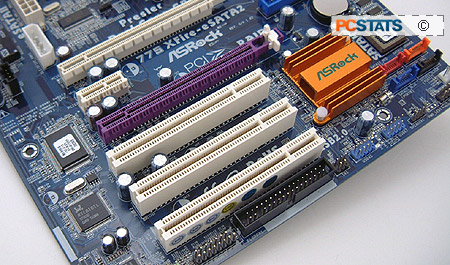 The components on the ASRock 775XFire-ESATA2/A/ASR motherboard are laid out well and you won't have to remove the PCI Express x16 videocard to access the memory modules. For some reason ASRock uses different size memory locks on its two DIMM channels, there is no difference between the two in terms of functionality, it's purely cosmetic.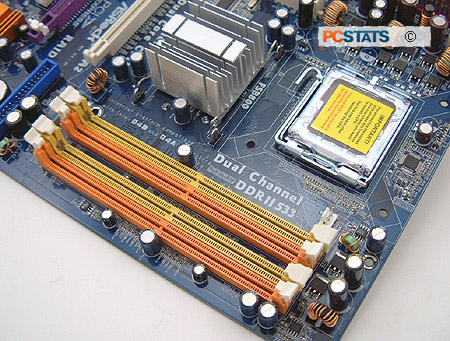 There isn't a whole lot of space between IDE channel and the first PCI Express x16 slot which means the cable will probably end up partially wrapping around the videocard. Not the best situation, so be mindful of how you route your wires. Users with videocard heatsinks that take up two PCI slots might have a bit of difficulty here too.
Both the Intel 945PL Northbridge and Intel ICH7 Southbridge chipsets are passively cooled, which means the system is dead quiet and there are no fans to die a few years down the road. However, it's advisable to have good case airflow to keep the motherboard chipsets operating cool.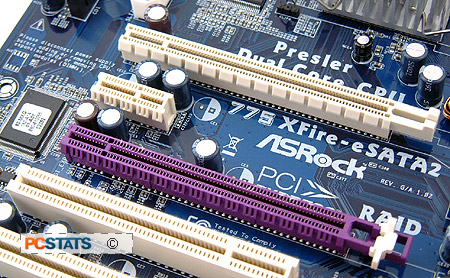 ASRock places two USB 2.0 headers on the PCB but do not include any USB brackets in the box. Be sure to pick up the "Intel" version if you go shopping for these parts. The motherboards front panel I/O header isn't well labelled, so don't put that manual away just yet, you'll need to refer to it when plugging in the connectors.
Now, ask yourself what you know about external SATA, and why this might be the next best thing since USB2.0 for external data storage... that's up next.