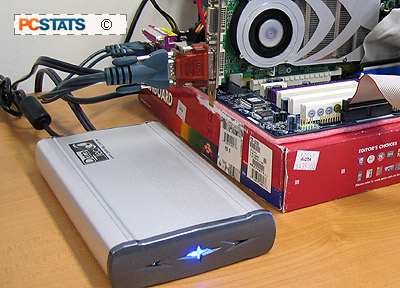 Thanks to the Intel ICH7R chipset, hot swapping external Serial ATA devices is also possible. Hot swapping devices with the Intel ICH7R is a bit more complicated than with other Serial ATA controllers. To remove a drive there must first be no disk activity and then it's as simple as unplugging it from the back of the computer. The "Safely Remove Hardware" option also works.
After the drive has been removed, it may still show up when browsing the computer, however within a few minutes it should disappear. Should you select a drive which is no longer there, there will be a brief pause but it will not crash the PC system.
While hot swapping the OS drive is not possible, it was tried out anyway and to our surprise the system did not crash! The system was non responsive as expected, but remarkably no blue screen appeared. After plugging the drive back in, a few seconds later everything was back to normal. There would be no reason for a user to disconnect their OS drive but it's nice to know that if you disconnect the wrong HDD by accident, all is not lost.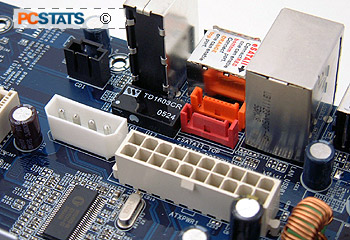 Users should note that since the Intel ICH7R does not support Port multiplier. Port multiplier devices will not function with eSATAII. Because the Serial ATA hard drive does not require a controller to function externally, eSATAII is significantly faster than USB 2.0 and IEEE 1394a/b and also uses no more CPU resources than a regular hard drive. In fact benchmarks results between external and internal drives were identical.
An interesting aside, thanks to eSATAII it is possible to run even the OS drive externally. This allows users who need absolute data security to place the HDDs in a secure area away from the computer.
To re-enable the drive after the cables have been connected is a bit more difficult than with other Serial ATA controllers. Unfortunately the computer does not automatically detect when a Serial ATA drive has been connected. You'll first need to load up Intel's Matrix Storage Console software (which is included on the ASRock motherboard CD) and Rescan for "Plug and Play Devices." After that has been done, the motherboard will detect the external hard drive and you're good to go.
Experts Tip: How to Re-enable a Serial ATA hard drive

The Intel ICH7R Southbridge supports the Serial ATA hot swapping feature but unfortunately it's not clear how to enable a Serial ATA HDD that has just been attached to the controller. First and foremost, the Intel Matrix Storage Console must be installed and can be found on the driver CD that came with your motherboard or here via Intel's website . Once installed, load up the Intel Matrix Storage Console and change the "View" mode to "Advanced". Attach the hard drive then click the "Actions" menu and select the "Rescan for Plug and Play Devices".

Once that's done the newly attached HDD will be detected and can be used by the system. Please note that this is the only way to get WindowsXP to identify the new hard drive.

Comments and Feedback? Suggest a Tweak.
Next up, we look at overclocking the Asrock 775XFire-ESATA2 motherboard, and nose around inside the BIOS....