Increasing a processor's FSB can lead to greater performance gains than just raising the overall CPU speed. With its desktop cousin the Pentium 4 already running on an 800 MHz FSB, it was only a matter of time before the Intel Xeon saw its FSB bumped up to 533MHz. Previously, Xeons operated on the original Pentium 4 400 MHz FSB and were in dire need of an upgrade.
Running on a higher overall FSB allows the system to perform tasks faster even if they're not CPU related. As all data must pass across the bus at some point, it's not hard to see why this has a greater impact on system performance than simply increasing the speed of the processor. That's why overclockers in the desktop world always try and get their FSB as high as possible to eke out the maximum performance from their systems.
The Xeon: Bandwidth Starved but with cache to spare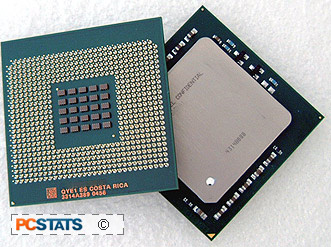 Intel has stuck with a tried-and-true way of setting up a multi-processor platform. They simply add another processor into the mix. While this does work, and saves a lot of R&D time, it also creates a few extra problems and bottlenecks here and there. Because the Intel Xeon is based on the Pentium 4 architecture, it requires a lot of system bandwidth to operate at fully capacity. This means that the rest of the system, not the CPU, is often the performance limiter.
One of the biggest issues to afflict systems which support dual or multiple Xeon processors is that all physical CPUs share one single 533 MHz data pipeline to the rest of the computer. If both CPUs are working at full load, the bandwidth is split in half; leaving each physical processor with just half the bandwidth it requires to operate at full capacity. If one processor were to use the full 533 MHz bus, the second must sit idle. As you can imagine things get tighter the more processors there are, and there's no real way to get around this as it would require Intel to totally redesign the Xeon architecture.
To counter this problem, Intel have equipped the Xeon with a larger L3 memory cache, built into the processor. This negates much of the aforementioned disadvantage, since it enables the processors to keep a large amount of commonly accessed data close to hand, rather than having to pass it back and forth over the data bus.
Like its desktop cousin, the Intel Xeon 3.06 GHz processor has 8KB of Level 1 cache memory and 512KB of level 2 cache in addition to the 1MB Level 3 cache. Cache memory in general is faster than 'regular' memory, since it is better performing memory built directly into the processor die itself. The various levels of cache memory generally denote size and speed in opposite proportions. Level 1 cache is the smallest, but with the lowest latency is also the fastest; level 2 is larger and slower, etc.
As illustrated in PCSTATS' review of the Intel Pentium 4 3.2 GHz Extreme Edition, cache memory plays a crucial role in overall system performance. However, the manner in which Intel implements their cache is not as efficient as that chosen by AMD.
The AMD K7 and K8 processors each use exclusive cache memory. This means that each section of cache memory is independent of the others. Consider an AMD AthlonXP 3000+ processor, which for its day had a total of 640KB of cache: 128KB L1 and 512KB L2. With Intel, all cache is inclusive. This means that 8KB L1 is remapped into the L2 cache, leaving 504KB of L2 for applications. Likewise, half of the Xeon 3.06 GHz 1MB L3 cache is reserved for the L2 cache processes, leaving a remainder of 512KB for use by more intensive applications.
Prelude to Benchmarks - Test System Configuration
Over the following page we'll be running the dual socket 604 Intel Xeon 3.06GHz processor based Tyan S2726UG5N server motherboard though PCSTATS standard set of server benchmarks. The specific details of how the Intel 3.06GHz Xeon processor test system and client computers were configured for benchmarking - including the hardware, software drivers, operating system and benchmark versions - are indicated below.
Take a moment to look over PCSTATS test system configurations before moving on to the individual benchmark results on the next several pages. Please keep in mind that this is a server processor review, and that's why there are primarily server-oriented benchmarks represented in the following pages.

PCSTATS Test System Configurations
Test System
Reference System
Reference System
Processor:

2x Intel Xeon 3.06 GHz

Intel Pentium 4 3.0C

AMD Athlon64 3200+

Socket:

Socket 604

Socket 478

Socket 754

Clock Speed:
23 x 133 MHz = 3.06 GHz
15 x 200 MHz = 3.0 GHz
10 x 200 MHz = 2 GHz
Chipset:
Intel E7501

Intel D875P

nVidia nForce 4
Motherboards:

Gigabyte 8KNXP i875P

MSI K8N Neo Platinum

Videocard:

ATi Rage XL

ATi Radeon 9800 Pro

Asus Radeon 9800XT

Memory:

2x 1GB Corsair Registered ECC PC2100

2x 512MB OCZ PC3500EL

2x 512MB Corsair TwinX3200LL

Hard Drive:
40GB Western Digital Special Ed.
40GB Western Digital Special Ed.
40GB Western Digital Special Ed.
CDROM:
NEC 52x CD-ROM
NEC 52x CD-ROM
MSI 52x24x52x CD-RW
PowerSupply:
500W ESP PSU (EPS12V)
Vantec Stealth 520W PSU
Enermax 430W PSU
Heatsink:

Stock Xeon 2U heatsinks

Stock socket 478 heatsink
Software Setup:

Windows Server 2003
Intel INF 5.02.1012

Microsoft WindowsXP SP2
Intel INF 5.02.1012
Catalyst 4.5

Microsoft WindowsXP SP2
Forceware 4.24
Catalyst 4.5

Benchmarks:

SiSoft Sandra 2004
SuperPi
POVRay
ScienceMark 2.0
Cinebench 2000
PCMark2002