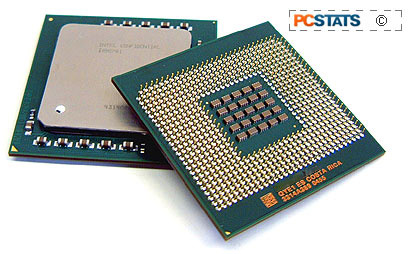 In the server processor world, Intel is king. This is for a simple reason: it has proved its worth. In the business world, people choose what they're comfortable with and Intel has been providing server level processors much longer than the competition.
The Intel Xeon has come a long way since 1998, and now controls much of the server market. The two Socket 604 Xeon DP 3.06 GHz processors that we looked at today are based on Pentium 4's Netburst architecture, built on 0.13 micron manufacturing technology, run on a 533 MHz FSB and sport 1MB of L3 cache. Like the Intel Pentium 4 3.06 GHz and Pentium 4 C processors, Xeons also support Intel's HyperThreading technology which allows processors to work on two independent threads of data at any given time.
Intel's Xeon processors are not as advanced as AMD's Opteron, and sharing the rest of the system devices in a multi-processor configuration can create data bottlenecks. To counter these problems, Intel has started equipping its Xeon's with Level 3 cache memory. With this feature, the processor does not need to go to the memory controller as often to get data, reducing the impact that two (or more) processors have on the available system bandwidth. Intel Xeon DP processors can be equipped with as much as 2MB of L3 cache, and Xeon MPs (4-Way and 8-Way multiprocessing compatible) the Level 3 cache can be as large as 4MB.
The dual 3.06GHz Intel Xeon configuration we looked at offers solid performance for business, server and content creation applications. What was evident is that the 3.06 GHz Intel Xeon on its own is not any more impressive than a standard Pentium 4 or AMD processor. To be fair, we did not expect it to be. The virtue of these processors (besides the stable server architecture that supports them) is their multi-processor capabilities, and in this the Xeon performs very well.
With a retail price of US$310 per chip the 3.06GHz Intel Xeon DP processor is reasonably cheap for a server processor. Money is not so much an issue for businesses as reliability is though. In this aspect Intel still has the lead over the competition, at least in the mind of the business buyer.
Find out about this and many other reviews by joining the Weekly PCstats.com Newsletter today! Catch all of PCSTATS latest reviews right here.
Related Articles
Here are a few other articles that you might enjoy as well...
- Intel Pentium D 940 3.2GHz Dual Core Processor Review
- AMD Athlon64 FX-62 and X2 5000+ Socket AM2 Processors Reviewed
- AMD Athlon64 FX-60 Dual Core Processor Review
- The Underclocking Experiment
- Overclocking and WindowsXP x64 Edition
- AMD Athlon64 X2 4800+ Processor Review
- Intel Pentium D 840 Dual-Core LGA775 Processor Review
- VIA C7-M Processor Preview
- Athlon64 3700+ Overclocking Fun
- The Technology Behind Dual Core CPUs
- IBM's CELL Processor: Preview to Greatness?
- Intel Pentium 4 540 (3.2E) Socket LGA 775 Processor Review
- AMD Athlon64 3500+ Overclocking Adventure
- AMD Athlon64 3800+ Socket 939 64-bit CPU Review