The balancing act between performance and cost is a difficult one to juggle when it comes to the entry level market. AMD has had success in the past with its Duron processors, and it looks like it has a real winner with its new value oriented line, the Sempron.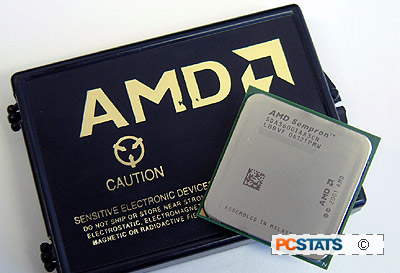 It's okay if you're not familiar with the Sempron name, there's been little news about the line even though it wipes the floor with its Celeron competition. The current generation of Sempron's are based on the Athlon64 design which should tell you something about the Sempron's capabilities as we have seen from the benchmarks.
The AMD Sempron 3600+ is Socket AM2 compatible which means if you're tight on a budget, you can build yourself a lean Socket AM2 machine and upgrade to something more powerful when you're ready. Or if you're looking to build an entry level system with total cost in mind but want a bit of flexibility, the 2.0GHz Sempron 3600+ fits the bill suitably.
With a retail price of $117 CDN ($105 US, £55GBP), the AMD Sempron 3600+ is an absolute steal. From the benchmark results in workstation style applications the 2.0GHz Sempron 3600+ is competitive with the competition, often equaling Intel Pentium D performance. In these office oriented applications and it is not even that far behind AMD's higher end processors.
In tests that require a lot of CPU power, like games or rendering programs, the AMD Sempron 3600+ lags behind mainly due to a small L2 cache size. AMD had to handicap the Sempron a bit otherwise it would steal sales away from the socket AM2 Athlon64, much like how the socket A Duron stole sales away from the AthlonXP processor.
In 3D applications, the smaller L2 cache size holds the Sempron 3600+ back a bit, although it is not as much apparent as with pure CPU-number-crunching tests. Team the AMD Sempron 3600+ up with a high powered videocard and a fast motherboard and you should have a pretty decent gaming machine, as the benchmarks indicated. You'll get much better framerates from an Athlon64 X2, but the two are wildly disparate when it comes to cost....
The 2.0GHz AMD Sempron 3600+ processor offers users on a budget a stable and reliable platform from which to build a workstation PC. The Sempron 3600+ is the ideal chip for mundane tasks like word processing, spreadsheets, email, surfing the internet and like chores - particularly if total computer cost is a limiting factor. If you decide you want to have some fun the Sempron 3600+ is also up to the gaming task so long as you've splurged on a good videocard, but just keep in mind that it won't break any FPs records when you're blasting away at enemies.
If you're a "bang for the buck" type of person, the 2.0GHz AMD Sempron 3600+ processor is certainly up there. It doesn't have the biggest bang, but it is an excellent processor for bargain hunters that's for sure.
Find out about this and many other reviews by joining the Weekly PCstats.com Newsletter today! Catch all of PCSTATS latest reviews right here.
Related Articles
Here are a few other articles that you might enjoy as well...
- Intel Pentium D 940 3.2GHz Dual Core Processor Review
- AMD Athlon64 FX-62 and X2 5000+ Socket AM2 Processors Reviewed
- AMD Athlon64 FX-60 Dual Core Processor Review
- The Underclocking Experiment
- Overclocking and WindowsXP x64 Edition