The new socket AM2 Sempron 3600+ processor is manufactured in AMD's Fab 30 wafer fabrication facility in Dresden, Germany. The fab uses a 90 nanometer Silicon on Insulator (SOI) manufacturing process, and as a result the silicon core of the 2.0GHz Sempron 3600+ contains a blistering 81.1 million transistors in space no larger than 103mm2 - little more than the size of your thumbnail.
The AMD Sempron 3600+ is a 940-pin organic micro PGA CPU package, which is know commonly as "Socket AM2." The original nomenclature was 'socket M2,' but this was changed when some intellectual property rights already associated with 'M2' were discovered. In any case, the "A" for AMD was added which is not too far a stretch.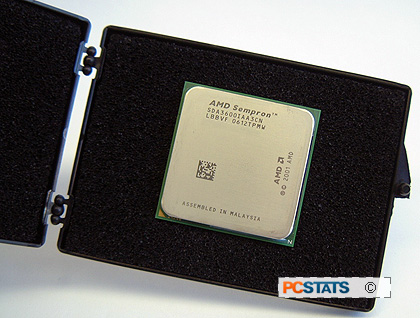 The 2.0GHz Socket AM2 AMD Sempron 3600+ processor incorporates a dual channel DDR2 memory controller and officially supports up to unbuffered DDR2-667 (or PC2-5300) memory. The Sempron 3600+ had no issues running memory at DDR2-800 speeds as well.
When running in a dual channel configuration, there is 12.8 GB/s of bandwidth available to the processor; yet because there is only one processing core on the Sempron 3600+ there is way more memory bandwidth than actually required.
The AMD Sempron 3600+ processor supports one HyperTransport link which runs at 1600 MHz and can provide a 6.4GB/s link between the processor and the rest of the system. This is slightly lower than the 2 GHz, 8GB/s HyerTransport link that the Athlon64 applies, but should not be noticeable unless under extreme conditions.
Even then the Sempron 3600+ does not have difficulty running HyperTransport at 2 GHz. ;-)
Aside from the speed gap between the two processor platforms, the AMD Sempron processor is also a bit more restricted on the volume of L2 cache. As we've seen in previous processor reviews, L2 cache size has a dramatic effect on overall CPU performance, often more than the 100-200 PR points AMD designates between models. The Sempron 3600+ has 64KB of L1 Instruction and 64KB of L1 Data cache as well as a total of 256KB of L2 cache.
To spice things up even further, AMD is also releasing Socket AM2 Sempron processors with 128KB of L2 cache! The only way to differentiate between the models is to look closely at the specifications and we definitely suggest spending the extra money for the models with more L2 cache. At the moment the only Socket AM2 model that has 128KB of L2 cache is the Sempron 3500+ part.
Complete Socket AM2 CPU Family
AMD is gradually going to move its entire Athlon64 and Sempron line of processors over to socket AM2. As the new 940-pin socket is not backwards compatible with existing DDR-based socket 754/939/940 K8 processors, the company is introducing chips from the value Sempron series all the way up to the flagship Athlon64 FX-62, along with a few energy efficient models.
PCSTATS is focusing on just the top of the line budget 2.0GHz Sempron 3600+ processor in this review. It retails for just $105 USD, which is really inexpensive considering the value it provides in the benchmarks, as you'll soon see. Here is a break down of the other socket AM2 parts currently available as of this writing, their clock speed and cache size.
Initial AMD Socket AM2 Processor Models and Energy Efficient CPUs
Socket AM2 Processors
Standard Efficiency
Energy Efficient
Clock Speed
Cache Size
Athlon64 FX-62
125W
-
2.8 GHz
2x 1MB
Athlon64 X2 5000+
89W
-
2.6 GHz
2x 512KB
Athlon64 X2 4800+
89W
65W
2.4 GHz
2x 1MB
Athlon64 X2 4600+
89W
65W
2.4 GHz
2x 512KB
Athlon64 X2 4400+
89W
65W
2.2 GHz
2x 1MB
Athlon64 X2 4200+
89W
65W
2.2 GHz
2x 512KB
Athlon64 X2 4000+
89W
65W
2.0 GHz
2x 1MB
Athlon64 X2 3800+
89W
65W, 35W
2.0 GHz
2x 512KB
Athlon64 3800+
62W
-
2.4 GHz
512KB
Athlon64 3500+
62W
35W
2.2 GHz
512KB
Sempron 3600+
62W
-
2.0 GHz
256KB
Sempron 3500+
62W
-
2.0 GHz
128KB
Sempron 3400+
62W
35W
1.8 GHz
256KB
Sempron 3200+
62W
35W
1.8 GHz
128KB
Sempron 3000+
62W
35W
1.6 GHz
256KB
A special class of energy efficient socket AM2 processors offer significant power reductions for those who would like to reduce their computer's power demands. This collection of AM2 CPU models is listed in the above chart, and the chips boast operational power specifications as low as 65W and 35W. Nice! The energy efficient processors have the same operating frequencies, L1/L2 cache, etc. as the standard models, but obviously come at a price premium.
In this course of this review PCSTATS will measure real world system power load for the socket AM2 Sempron 3600+ processor. We'll introduce you to a metric born of server hosting facilities, discuss how the new socket AM2 formfactor shapes up and cover a few other new technologies before diving into a comprehensive set of gaming, workstation content creation, and office oriented benchmarks so you can see for yourself what potential these processors offer.
There is a lot to cover, so feel free to jump ahead to specific sections if that is what interests you most.