Overclocking Results:
The 2.0GHz AMD Sempron 3600+ processor core is built on the same 90 nanometer manufacturing process as AMD's high end Athlon64, X2 and FX processors.... so you know what that mean! Overclockability should be good for this little 2.0GHz budget processor. For the following overclocking tests PCSTATS settled on the Asus M2N32SLI-DLX motherboard and some Corsair Twin2X2048-8500C5 memory to give the Sempron 3600+ the best chance to reach super high clock speeds.
Before the overclocking tests got underway, the Corsair Twin2X PC2-8500 memory was first set to run at DDR2-533 MHz mode, this way it will not hold the CPU back. Keeping the 10x CPU clock multiplier, the Asus' motherboard clock speed was increased slowly from 200 MHz on up.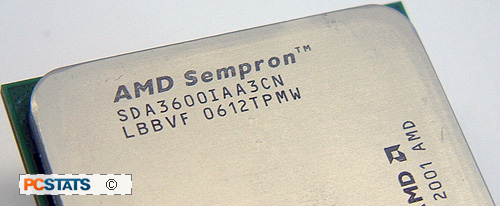 The 2.0GHz AMD Sempron 3600+ handled the overclocking process very well from the start and it only started to break a sweat when clocked at 2.4 GHz. At that speed stability wasn't the best and the CPU core voltage had to be increased to 1.37V to stabilize it.
Continuing on, we found the AMD Sempron 3600+ starting to BSOD while loading WindowsXP at 244 MHz motherboard clock speed. Yet again the CPU voltage was increased, this time to 1.4V.
In the end the 2.0GHz Sempron 3600+ processor sputtered out at an overclocked speed of 2.5 GHz, anything higher and the processor would crash the system while running benchmarks. You have to admit that 2.5 GHz from a $100 processor is pretty nice!
Prelude to Benchmarks - Test System Configuration
Over the following page we'll be running the socket AM2 2.0GHz AMD Sempron 3600+ processor though PCSTATS standard set of gaming, productivity, and 64-bit processor benchmarks. There are a wide variety of gaming and synthetic benchmarks here to illustrate what kind of performance boost users can expect from these latest, dual core 64-bit capable K8 processors.
Please take a moment to look over PCSTATS test system configurations before moving on to the individual benchmark results on the next several pages.

PCSTATS Test System Configuations