The "Conroe" or Core 2 Duo Intel E6600 processor is exactly what the doctor ordered! After struggling both in the CPU and chipset markets for far too long, the future is looking very bright for Intel.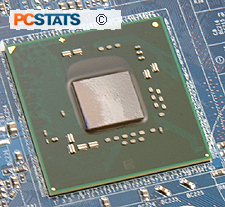 To use Intel's latest and greatest, you'll need to upgrade your motherboard to a 945, 965 or 975 based platform. The reason is older generations do not properly handle the power requirements of the Core 2 Duo processor, and that's where the P965 Express series of chipsets comes in. If you'd like to upgrade to Core 2 Duo without breaking the bank, Gigabyte GA-965P-DS3 is an excellent alternative with a retail price of $156 CDN ($140 US, £75 GBP).
Moderately priced, the Gigabyte GA-965P-DS3 comes with basic integrated peripherals like 7.1 channel audio, Gigabit LAN and Serial ATA II RAID yet has a whole host of upgrade options thanks to all the expansion slots (three PCI Express x1 and three 32 bit PCI slots, along with PCI Express x16 for graphics cards).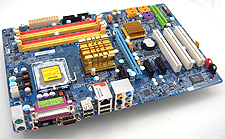 Another feature that you might not notice is that the GA-965P-DS3 only uses solid state capacitors instead of electrolyte based capacitors. Solid capacitors are higher quality and last longer than the regular capacitors and are usually only found on videocards. By equipping the GA-965P-DS3 with solid capacitors, Gigabyte is improving stability and durability of the motherboard. In light of all the burst capacitor problems the industry has faced in the past few years, this is a welcome, albeit overly technical, feature to incorporate.
The Gigabyte GA-965P-DS3 is definitely a peppy motherboard. Not only is it fast in office based tasks like SYSMark2004 or Business Winstone 2004, it's also fast at 3D gaming! Of course the Core 2 Duo processor had a lot to do with the large increase in performance but the GA-965P-DS3 motherboard still played a key role. With the ability to run memory at DDR2-800 (or 1066 unofficially) the GA-965P-DS3 motherboard should be faster than even high end 975X boards on the market!
If you want to upgrade your system to something using Intel's Core 2 Duo processor, the Gigabyte GA-965P-DS3 is definitely a platform worth considering. It's moderately priced, and fast; that's a combination you don't usually find these days in the computer world. ;-)
Find out about this and many other reviews by joining the Weekly PCstats.com Newsletter today! Catch all of PCSTATS latest reviews right here.
Related Articles
Here are a few other articles that you might enjoy as well...
- Biostar TForce P965 Deluxe Motherboard Review
- Albatron KM51PV-AM2 Geforce 6150 Motherboard Review
- ASRock AM2V890-VSTA VIA K8T890 Socket AM2 Motherboard Review
- MSI K9N SLI Platinum nForce 570 SLI Motherboard Review
- ECS RS480-M Crossfire Xpress 200 K8 Motherboard Review
- ASRock 775XFire-eSATA2/A/ASR i945PL Motherboard Review
- Epox 9U1697 GLI ULi M1697 Motherboard Review
- Asus M2N32-SLI Deluxe nForce 590 SLI AM2 Motherboard Review
- Biostar TForce 6100 AM2 Motherboard Review
- Foxconn 975X7AA-8EKRS2H Intel 975X Motherboard Review