The Intel P965 Express chipset is Intel's latest mainstream chipset and it works with every Socket 775 processor on the market from Intel Pentium 4/D/XE to Celeron D and right on through to the Core 2 Duo. Along with the new Northbridge, Intel also released the ICH8 Southbridge to replace the ICH7. The version found on the Gigabyte GA-965P-DS3 is the plain ICH8 model, which does not include RAID. Bummer.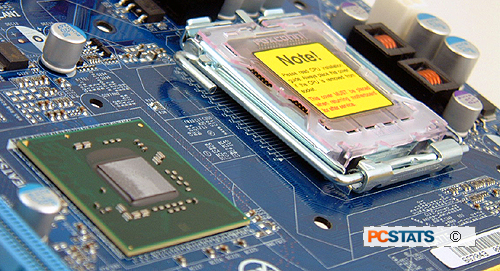 Intel has increased its DDR2 memory support to 800 MHz (although the Gigabyte GA-965P-DS3 unofficially has a 1066 MHz memory multiplier) with the P965 Express chipset, putting Intel's latest and greatest at par with AMD's Socket AM2 Athlon64's. Intel calls the new memory controller FMA or 'Fast Memory Access' and gives the system a maximum theoretical bandwidth of 12.8GB/s.
The Intel P965 Express is a mainstream chipset, and thus only supports a single PCI Express x16 graphics card.
A dedicated 2GB/s I/O bus connects the Intel P965 Express Northbridge and ICH8 Southbridge together, which might be a little tight if you have many high bandwidth devices installed but should be just fine for the average user.

The Gigabyte GA-965P-DS3 motherboard comes installed with the ICH8 Southbridge which includes a ton of goodies. There are four Serial ATA II channels as well a 7.1 channel Intel Azalia high definition audio, 10 USB 2.0 slots (any, or all of which can be disabled which is an important feature for businesses), six PCI Express x1 lanes and an integrated Intel Gigabit MAC which runs through the PCI Express bus.
Noticeably lacking from the chipset itself is parallel IDE support. This is forcing many motherboard manufacturers to integrate a standalone IDE controller onto their motherboards (like the Gigabyte SATA2 controller added to include IDE support on the GA-965P-DS3). Rumor had it that Intel brought the ICH8 back to the drawing board to add a single IDE controller but that obviously didn't happen. A block chart of the P965 Express chipset's major features is illustrated below.
Luckily parallel IDE technology isn't overly expensive to add to a motherboard. While I admit that Intel is the leader in computer technology, this idea of its to do away with IDE seems a bit premature to us; especially with the lack of Serial ATA optical drives.
Next up, we take a tour of the Gigabyte GA-965P-DS3 motherboard highlights.