Intel's Core 2 Duo processor is a powerful little chip, and it has certainly breathed new life into what was shaping up to be a pretty bad year for Intel... AMD had its 64-bit compatible dual core socket AM2 Athlon64 X2 processors out en mass, and the vintage aspects of the Intel Pentium D were certainly showing in the benchmarks. However what will really propel the Core 2 Duo into the limelight are inexpensive platforms based on the Intel 945 Express - the mainstream core logic branch of the Express series (945, 965, 975).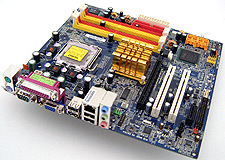 The Gigabyte GA-945GM-S2 motherboard PCSTATS tested today retails for about $115 CDN ($100 US, £55 GBP), making it a great multi-purpose platform for mainstream or value-oriented users. Built on the passively cooled Intel 945G Express and Intel ICH7 chipsets, the GA-945GM-S2 incorporates an onboard Intel GMA950 videocard and a concise (but not jaw-dropping) set of expansion options.
While we've seen that the Intel GMA950 integrated videocard fails miserably at current generation 3D games, it's more than adequate for 2D applications and desktop programs. If you have no interest in gaming and only intend on using your computer for work; surfing the 'net, email, Word and similar Windows XP/Vista based applications, the GMA950 is totally fine. If gaming comes into the cards a little further down the road, the GA-945GM-S2 does at least have a PCI Express x16 slot into which you can install a stand alone videocard that can tackle the processing load of a modern 3D game. Incidently, overclocking is not supported in any way on this motherboard.
The feature list for the Gigabyte GA-945GM-S2 motherboard is pretty compact and pretty basic; 7.1 channel audio, Gigabit networking, four SATA hard drive / one IDE hard drive support, and the onboard graphics we've already mentioned. Expansion comes care of a PCI Express x1 and PCI Express x16 slot, and two 32-bit PCI slots. With the ability to run up to 4GB of DDR2-667 memory, it's a good idea to install no less than at least 1GB for the GMA950 graphics will allocate up to 224MB to itself.
The Gigabyte GA-945GM-S2 is definitely a well paced mainstream motherboard when it comes to office oriented applications and productivity software (Word, Excel, etc.). Compared to P965 Express based motherboards in benchmarks like SYSMark2004 or Business Winstone 2004, the Gigabyte GA-945GM-S2 motherboard holds its own. Of course the Core 2 Duo processor has a lot to do with this, but the Intel 945G chispet still plays a key role. With a stand alone PCI Express x16 videocard installed, the GA-945GM-S2 becomes a satisfactory single-videocard gaming platform too.
If you're looking towards a computer upgrade and want a PC packing the Intel Core 2 Duo processor, the Gigabyte GA-945GM-S2 is an inexpensive mainstream motherboard well worth considering. It's moderately priced, great for office oriented applications, and expandable for good gaming performance which is always a nice, if not entirely necessary touch.
Find out about this and many other reviews by joining the Weekly PCstats.com Newsletter today! Catch all of PCSTATS latest reviews right here.
Related Articles
Here are a few other articles that you might enjoy as well...
- Epox EP-MF570 SLI nForce 570 SLI Motherboard Review
- Gigabyte GA-M59SLI-S5 nForce 590 SLI Motherboard Review
- Gigabyte GA-965P-DS3 Intel P965 Express Motherboard Review
- Biostar TForce P965 Deluxe Motherboard Review
- Albatron KM51PV-AM2 Geforce 6150 Motherboard Review
- ASRock AM2V890-VSTA VIA K8T890 Socket AM2 Motherboard Review
- MSI K9N SLI Platinum nForce 570 SLI Motherboard Review
- ECS RS480-M Crossfire Xpress 200 K8 Motherboard Review
- ASRock 775XFire-eSATA2/A/ASR i945PL Motherboard Review
- Epox 9U1697 GLI ULi M1697 Motherboard Review
- Asus M2N32-SLI Deluxe nForce 590 SLI AM2 Motherboard Review
- Biostar TForce 6100 AM2 Motherboard Review
- Foxconn 975X7AA-8EKRS2H Intel 975X Motherboard Review
- Gigabyte GA-8N-SLI Quad Royal Motherboard Review
- ASRock 939SLI32-eSATA2 ULi M1695 Motherboard Review
- ECS KA1-MVP Extreme Xpress 1600 Motherboard Review
- MSI K8N Diamond Plus nForce4 SLI x16 Motherboard Review
- ECS 945G-M3 Motherboard Review
- ECS C19-A SLI nForce4 SLI Intel Edition Motherboard Review