It took a few generations of videocards for gamers to open up to the idea of running two videocards together. Now that SLI is firmly established nVIDIA has taken the next logical step to populate the world of single PCI Express x16 slot motherboard with SLI capable hardware.
The nVidia GeForce 7950GX2 brings SLI/dual GPU power to every PCI Express motherboard and with appropriate hardware can allow for quad GPU rendering on every other SLI-capable motherboard. Let it never be said that nvidia failed to capitalize a market segment! We're just waiting for the day SLI GPUs in camera phones emerge...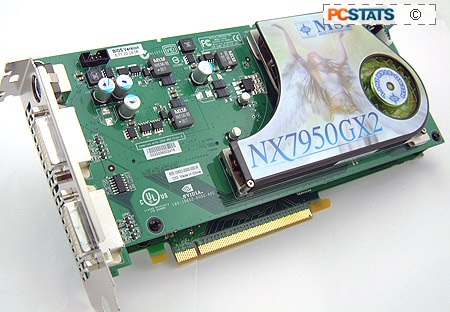 Videocard GPU and computer microprocessor developments have many parallels, and the way videocards are advancing, it's only a matter of time before nVIDIA and ATi hit a similar manufacturing problem as CPU manufacturers faced. Namely the limits of power demand and heat output.
The Intel Tejas was cancelled because it emitted 150W heat, and sooner or later nvidia is going to come face to face with a GPU which is just too hot to be a realistic option. The average high end Geforce puts out about 80W power, and if we consider a 1-2W per memory BGA-DRAM it's easy to see why thermal manufacturers and even memory companies like Corsair are investing in videocard cooling solutions and all but side-stepping CPU heatsinks.
In any case, dual GPU videocards do as dual CPU cores do. The MSI NX7950GX2-T2D1GE videocard is as sweet as it gets in the PCI Express formfactor, and as a flagship product from MSI this is certainly the must have item right now. With two GeForce 7950GX2 cores running in SLI and 1GB of memory, there is nothing else on the market that is as impressive when the gaming software is able to take advantage of its capabilities. If you're a hardcore gamer and your favorite game titles are SLI compatible this is the penultimate videocard. As PCSTATS demonstrated in the benchmarks, if the game is unable to take advantage of SLI, one graphics core will just remain idle and in effect the Geforce 7950GX2 is no more powerful than a single Geforce 7900GTX.
With a retail price of $640 CDN ($567 US, £303GBP) only serious gamers need apply, and on top of that you'd better have a killer gaming rig that's able to keep up with the MSI NX7950GX2-T2D1GE! The GeForce 7900 series GPU's already generate a lot of heat and good system airflow is definitely important with this card. It's normal for core temperatures to run 60C+ so don't be alarmed if you monitor core temperatures.
The performance of the MSI NX7950GX2-T2D1GE is certainly interesting. In SLI compatible applications, the NX7950GX2-T2D1GE is simply a monster and FEAR illustrates that point very well. With all advanced features turned on the MSI NX7950GX2-T2D1GE is twice as fast as a GeForce 7900GTX! With high settings in Doom 3 and Quake 4 the MSI NX7950GX2-T2D1GE also leads the way.
In terms of overclocking the MSI NX7950GX2-T2D1GE did an excellent job hitting a very sweet 640 MHz core (up from 500 MHz stock) and 1480 MHz memory (1200 MHz stock). Of course seeing as how the MSI NX7950GX2-T2D1GE is already system limited, overclocking only really boosted extreme game settings like when Shader Model 3.0 is enabled in Splinter Cell: Chaos Theory and FEAR with Soft Shadows enabled. Looks like the AMD Athlon64 4000+ doesn't have enough power to push this videocard to the max.... Intel's Core 2 Duo might be a different story.
The MSI NX7950GX2-T2D1GE is definitely very fast. If you're in the market for a bleeding edge system there are no other alternatives. I'll say it again though... it pays to do your research and make sure the games you intend to play are SLI compatible. If they're not, you are better served by a single high end videocard like the Geforce 7900GTX. If your games are SLI ready (like in FEAR, Splinter Cell and Quake 4), your system will smoke the competition!
Find out about this and many other reviews by joining the Weekly PCstats.com Newsletter today! Catch all of PCSTATS latest reviews right here.
Related Articles
Here are a few other articles that you might enjoy as well...
- Asus EN7600GT Silent /2DHT/256M/A Geforce 7600GT Videocard Review
- MSI NX7600GT-VT2D256E Geforce 7600GT Videocard Review
- Asus EN7900GT TOP/2DHT/256M/A Videocard Review
- Asus EAX1600XT Silent/TVD/256M/A Videocard Review
- S3 Chrome S27 PCI Express Videocard Review