One thing to remember is that while there are more and more SLI compatible video games are being released, it's best to check to see if your favorite title supports this feature before diving into an SLI videocard setup headfirst. Most of the killer new titles do, but if you're half way though an older game title there may be no major benefit from an SLI videocard configuration.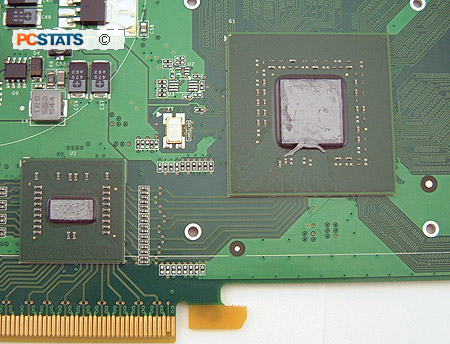 The MSI NX7950GX2-T2D1GE videocard is built from two stacked PCBs, each with its own GPU, memory, and thermal solution. The top portion of the videocard has the PCI Express x16 connector and an additional FCBGA bridge chip which splits the PCI Express bus between each of the two GeForce 7950 GPUs.
Looking at the block diagram above, you'll note that the PCI Express lanes first go to the PCI-E Switch where half the bus is directed to the first Geforce 7950GX2 core and half directed to the second Geforce 7950GX2 core. The two GeForce 7950GX2 GPUs communicate to each other through the internal SLI bridge. There are only two DVI outputs however between both "video card's" and one TV output supporting S-Video and composite formats.

Each GeForce 7950GX2 core has 512MB of dedicated GDDR3 memory and the core and memory are cooled with an identical VGA heatsink (there are two per card). It's vital that GeForce 7950GX2 videocard receives good airflow otherwise heat can become a major issue. Also keep in mind that the cooling solution on the MSI NX7950GX2-T2D1GE cannot be changed, so you'll want to keep the inside of your computer clean of dust.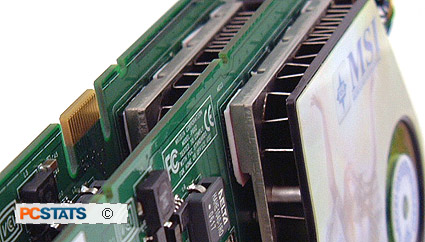 As mentioned earlier, the MSI NX7950GX2-T2D1GE can be run in SLI with another GeForce 7950GX2 videocard for a four way GPU rendering! Now let's take a little closer look at this sexy green graphics monster!