Overclocking Results:
The NX7950GX2-T2D1GE is MSI's top of the line videocard and its core comes clocked at 500 MHz while the memory hums along at 1200 MHz. Starting with the core first, the only tweaker that is compatible with the NX7950GX2-T2D1GE is nVIDIA's own nTune 5 software.
Seeing as how the MSI NX7950GX2-T2D1GE uses two of the same G71 cores that are found in the Geforce 7900GT/GTX single GPU graphics card, I had some high hopes in terms of overclocking.
The core memory frequency was overclocked in 5-10 MHz increments and the first 100MHz flew by quickly. While the GeForce 7950GX2's easily broke the 600 MHz mark it quickly became apparent that the complexity of this configuration might make it hard from the twin GPU's to reach typical GeForce 7900GTX overclocked levels.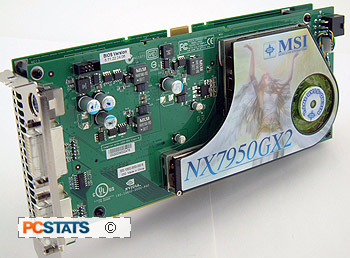 In the end the fastest we could push the MSI NX7950GX2's twin cores to was 640 MHz. That's a pretty healthy overclock from the 500 MHz stock core speed, and only 10 MHz slower than what the GeForce 7900GT's run at.
Next up was the 1GB of GDDR3 memory, which is clocked at 1200 MHz by default. Increasing the clock speed in 10-20 MHz intervals, the memory was not about to be outdone by the good core overclock we achieved. The 1300 MHz barrier came and went as did 1400 MHz. But, after that the going went slowly and in the end the maximum speed the memory overclocked to was 1480 MHz. Speeds higher than this were possible, but the MSI NX7950GX2-T2D1GE would start to artifact during 3DMark tests.
Please keep in mind these clock speeds when viewing the benchmark results, in applications that do not support or fully support SLI, the MSI NX7950GX2-T2D1GE videocard may have a hard time keeping up with the GeForce 7900GT since its memory clock speed is significantly lower.
Prelude to Benchmarks
The details of how the MSI NX7950GX2-T2D1GE test system was configured for benchmarking; the specific hardware, software drivers, operating system and benchmark versions are indicated below. In the second column are the general specs for the reference platforms this nVidia GeForce 7950GX2 based videocard is to be compared against. Please take a moment to look over PCSTATS test system configurations before moving on to the individual benchmark results on the next page.

PCSTATS Test System Configurations