The ATi 'RD580' Crossfire Xpress 3200 northbridge is where all the dual videocard Crossfire action occurs. To take advantage of the multi-GPU functionality of the Asus M2R32-MVP motherboard you'll need two PCI Express x16 ATI Radeon videocards of the same GPU class, with one being the special Crossfire Edition Master card. If you can find a Radeon X1950 Pro, then just use two of these native CrossFire cards.
ATI's current generation of Crossfire technology works a little differently from nVIDIA's SLI, and with the introduction of native Crossfire it will become drastically simplyer. For the moment, if you want to run Crossfire with ATi's latest and greatest, you first have to team up a "CrossFire Master" videocard with a non master card of the same GPU class. To differentiate between the two, if it doesn't say 'CrossFire Master' on the packaging, then it's a regular PCI Express videocard.
After installing the two PCI Express x16 videocards into the Asus M2R32-MVP motherboard, you must then connect the 'Crossfire Master' videocard to the non master via a special external cable for the two to split rendering loads properly. The newest generation of CrossFire videocards do away with the external jumper cable altogether, and instead will run multi-videocard Crossfire through the an SLI-like set of internal jumpers... now back to the 'RD580' Xpress 3200 chipset.
Technical Specs - Xpress Crossfire 3200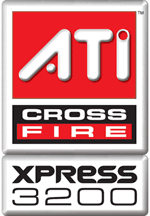 Technically speaking, the ATI 'RD580' Crossfire Xpress 3200 core logic has support for a total of 40 PCI Express lanes. Of these, 32 lanes are dedicated to the videocard(s) and the other 8 PCI Express lanes are reserved for expansion peripherals. The 'RD580' is currently the only chipset in the world that supports two PCI Express x16 slots; nVIDIA achieves similar results by splitting the two PCI Express X16 32 lanes between its northbridge MPP and southbridge MCP.
ATi's CrossFire Xpress 3200 is a dual chip solution and is separated into the traditional Northbridge and Southbridge designation. The ATI 'RD580' communicates with the socket AM2 AMD processor over a HyperTransport connection at a rate of 2000MT/s, while a dedicated high speed 'A-link' connects the ATI 'RD580' northbridge and ATI 'SB600' southbridge chipsets together.
The CrossFire Xpress 3200 is teamed up with the ATi 'SB600' chipset which has an integrated six channel Serial ATA II controller that supports hot plugging, and can do RAID 0 and 1. Please note though that only four channels will be available internally, while the other two Serial ATA II PHYs are intended for eSATA use. ATi supports one parallel IDE channel with this chipset. It's unfortunate but unsurprising as both Intel and nVIDIA have done the same thing with their respective chipsets. The 'SB600' supports 10 USB 2.0 channels and a maximum of six 32 bit PCI slots can be employed for expansion purposes.
External eSATA Device Support
eSATAII (aka external Serial ATA) support is easily the most exciting feature to pop on motherboards recently. When it comes to external mass storage, bandwidth has always been an issue. While USB 2.0 (480 Mbps) and IEEE 1394a/b (400/800 Mbps) offer better alternatives than past connections like Serial and Parallel ports, they are slow compared to dedicated hard drive channels.
With the emergence of Serial ATA II, external storage has taken a huge step forward. Serial ATA II's bandwidth of 3Gbps makes even IEEE 1394b's 800Mbps bandwidth look paltry by comparison. eSATA enclosures for hard drives are widely available, and the great thing is that hard drives connected over this standard are just as fast as internal devices. The one eSATA connector at the rear of the Asus M2R32-MVP motherboard is hot swappable, so it makes adding and removing an external hard drive about as complex as clipping in a USB memory key.
Next, we take a walk around some of the highlights of this Asus M2R32-MVP motherboard....