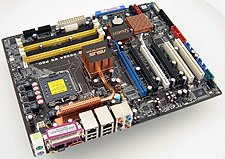 The downtime caused by faulty computer hardware can easily cost many more times than the hardware itself. That's why businesses invest in "expensive" workstation and server components. On paper the devices may look similar to their desktop counterparts, but workstation peripherals go through stricter quality control standards.

Of course this increases the price of the hardware but that's peanuts compared to the peace of mind that comes along with buying true workstation hardware. The Asus P5W64 WS Professional retails for $340 CDN ($290 US, £148 GBP) which is exactly where we expected it to be. The motherboard comes with all the onboard features a serious user needs; four PCI Express x16 slots for connectivity for up to eight monitors, dual Gigabit network cards for super connectivity, IEEE 1394a, plenty of SATA (and eSATA) with Intel Matrix Technology RAID support, USB2.0 and a high definition 7.1 channel Azalia audio codec.

It's possible to connect four independent videocards to the Asus P5W64 WS Professional thanks to the IDT 89HA0324 PCI Express switch that's hidden under the "Quartet" heatsink. Now before you get too excited, the P5W64 WS Professional is designed for multiple displays, not some insane four way ATi CrossFire setup. Of course the four PCI Express x16 slots are not just limited to videocard use and you can insert any PCI Express peripherals you choose including SCSI controllers or 10Gb network cards. When running more than two PCI Express cards, the PCI Express bus is split up into x8, x8, x4, x8 modes across all four slots.

The P5W64 WS Professional motherboard is a breeze to work with, and your IT tech will have no problems setting this system up and running smoothly. The Gigabit network cards and additional Marvell 3.0GB/s Serial ATA II controller both run thought the PCI Express bus, so neither will run into bottlenecks.

The performance of the Asus P5W64 WS Professional is very high, and it performs particularly well in workstation type tasks. If you feel like playing a game or two when the boss is not around, the P5W64 WS Professional is also good at that... assuming you have a sufficient videocard. ;-) While I highly doubt you'd be overclocking a workstation system like this, if you decided to the board is up to the challenge. There are decent options in the BIOS, and in PCSTATS case we reached 400 MHz.

The Asus P5W64 WS Professional is aimed at a very specific market. It's designed for the user who requires a heck of a lot of video outputs and requires mission critical stability. This platform is compatible with both 32-bit and 64-bit versions of Windows Vista and XP Professional operating systems. The Asus P5W64 WS Professional is a premium motherboard, but when you buy a platform like this you won't have to give it another thought for years to come.
Find out about this and many other reviews by joining the Weekly PCstats.com Newsletter today! Catch all of PCSTATS latest reviews right here.
Related Articles
Here are a few other articles that you might enjoy as well...
- Epox EP-5P945 Pro Express Motherboard Review
- Foxconn G9657MA-8KS2H G965 Express Motherboard Review
- DFI LANParty UT NF590 SLI-M2R/G Motherboard Review
- Asus P5B-E P965 motherboard Review
- MSI K9N Diamond nForce 590 SLI Motherboard Review
- ABIT FATAL1TY AN9 32X nForce 590 SLI Motherboard Review
- Biostar P4M890-M7 VIA P4M890 Core 2 Duo Motherboard Review