External eSATA Device Support
eSATA II (aka external Serial ATA) support is one of the most exciting features to pop on motherboards recently. When it comes to external mass storage, bandwidth has always been an issue, and Serial ATA makes even IEEE 1394b's 800Mbps bandwidth look paltry by comparison. Asus has placed an external SATA (eSATA) port on the rear I/O of the P5W64 WS Professional motherboard.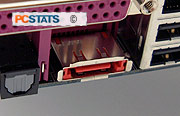 This connection uses a slightly modified SATA cable (not included), which is better suited to external connections. Standard internal Serial ATA cables are sufficient for internal connections, but SATA-IO governing body decided a while back that the external version should be a somewhat different format, thus creating the eSATA standard. eSATA enclosures for hard drives are widely available, and the great thing is that hard drives connected over this standard are just as fast as internal devices.
The connectors are hot swappable, so it makes adding and removing an massive external hard drive about as complex as plugging in a USB memory key. For anyone who as ever had to move Gig's of data over a USB cable, eSATA is simply awesome.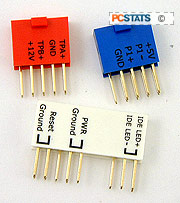 The Asus Q Connector
The Q-Connector makes connecting front panel I/O, USB or IEEE 1394 headers a snap. Since the standards are different per manufacturer, cases often come with front panel connectors broken down to one pin per line. If you're a tweaker that makes removing the motherboard a more tedious task but with Q Connector, you can connect all the pins to the proper Q connector then connect that to the motherboard when you're ready.
Removing the motherboard to do some maintenance? Simply remove the Q Connector from the board and plug it back in when you're set. Asus even labels the individual pin values from ground to power and data! Just make sure you line up the pin outs properly, in a dark area it might be difficult to tell.
Advanced thermal solution, low noise, high cooling capacity
Probably the first thing you'd notice about the Asus P5W64 WS Professional motherboard is its small heatpipe heatsink. The Intel 975X Express chipset generates a fair amount of heat, but in this instance the chipset has a simple passive aluminum heatsink with a heat pipe coming out one end. Some of the heat from the 975X chipset is transferred by the heatpipe to a 28 fin copper heatsink that also cools the motherboards' MOSFETs (part of the 8-phase powersupply). This second passive heatsink is designed to be indirectly cooled by the exhaust airflow from the processor heatsink fan.
The copper fin heatsink on top of the MOSFETs will require active cooling if the processor is cooled by water or phase change thermal solutions. The quickest way to do this is by pointing a fan in its direction. If you don't, it's possible that the chipset may overheat leading to system instability.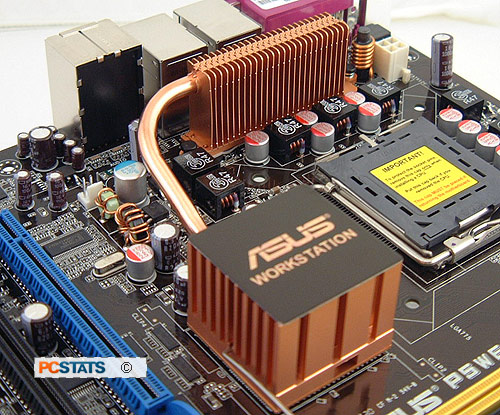 The Intel 975X Express Northbridge chipset gets hot but the Asus cooling system does a good job at dealing with the heat. Next up, PCSTATS takes a closer look at some of the Asus P5W64 WS Professional motherboards' highlights...