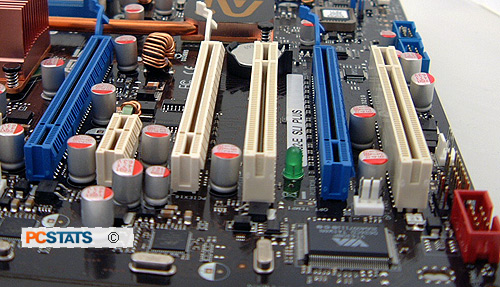 Feature wise the nVIDIA nForce 650i SLI offers only a small improvement over the nForce 570 SLI Intel Edition chipset. In fact the only new feature it incorporates are support for a higher FSB, 1333 MHz. Unofficially the nForce 650i SLI chipset is also supposed to be an overclocking monster... for the final word on that flip on over to the next page of this review.
As you might expect, the nVidia nForce 650i SLI is split into the traditional Northbridge/Southbridge configuration. Asus took a different route and places the nForce 570i MCP Southbridge on the motherboard and it handles most of the work. This is not an issue, the nForce 570i MCP feature wise is very modern and even nVIDIA rebranded its previous nForce 500 series MCP's for use with the nForce 600 series.
The nForce 650i SLI Northbridge supports a 533/800/1066/1333 MHz FSB connection to the processor, so it's compatible with Intel's next generation quad core processors. Between the nForce 650i SPP and nForce 570i MCP is a 2GHz HyperTransport connection. The nForce 650i SLI Northbridge supports the regular JEDEC standard DDR2-800 memory. We should also note that the nForce 650i SPP supports 16 PCI Express lanes itself.
The nVIDIA nForce 570i MCP Southbridge is the busier of the two, with capabilities to support one PCI Express x16 slot, two PCI Express x1 lanes, five regular 32 bit PCI slots, one Gigabit MAC, a 7.1 channel High Definition Intel Azalia audio controller, four Serial ATA II slots and two IDE channel which supports four devices.
Please note that Asus does things a bit differently with the P5N32-E SLI Plus motherboard when it comes to SLI. Instead of splitting the nVIDIA nForce 650i PCI Express x16 bus between two slots, SLI is set up in the same fashion as the nForce 680i. The nForce 650i Northbridge handles one PCI Express x16 slot while the nForce 570i MCP Southbridge handles the second PCI Express x16 slot.
nVidia nForce 600 Series Feature Chipset Breakdown
nVidia nForce 650i SLI
CPU
Socket 775
nVidia SLI Support
Yes, (2 x8)*
nVidia FirstPacket
Yes
nVidia DualNet
Yes
Native Gigabit Ethernet
2
Teaming
Yes
TCP/IP Acceleration
Yes
nVidia MediaShield Storage
Yes
SATA/IDE HDD
6/2
SATA Speed
3Gb/s
RAID
0, 1, 0+1, 5
nVidia nTune Utility
Yes
PCI Express Lanes
48 lanes
USB Ports
10
PCI Slots
5
Audio
High Definition Audio (Azalia)
nForce 650i SLI Assorted Technologies
nVIDIA's integrated audio solution supports Intel's High Definition Audio Azalia standard. With Serial ATA going the way it is, there is only one IDE channels integrated. To balance out storage requirements, the number of Serial ATA II (3Gbps) ports has been set at six. Continuing on the hard drive front, nVIDIA's Serial ATA II channels adhere to the Serial ATA 2.0 spec and support RAID mode 0, 1, 0+1 and 5.
nVIDIA DualNet technology basically gives the user greater control over network processes. All high end nVIDIA chipsets by default support two Gigabit connections. Users can combine the two connections for more bandwidth, and there is hardware TCP/IP Acceleration which lowers CPU utilization. Another very cool feature is nVIDIA's FirstPacket Technology which allows you to prioritize network traffic. So for example, if you are a gamer that tends to do multiple things while you're online, you can prioritize your game traffic so that ping times are not affected by the other processes going on in the background.
On the memory front, the nVidia 650i SLI chipset supports Enhanced Performance Profiles or EPP which was introduced in the previous generation. This is an open memory standard put forth by Corsair and nVIDIA which takes over where JEDEC's SPD leaves off. As the Enhanced Performance Profiles description implies, it adds performance profiles to the memory SPD in addition to the conservative compatibility settings already programmed in.
EPP compliant memory is dubbed "SLI Ready" memory on nVidia platforms and allows the system to dynamically tighten up memory timings and increase voltages for better performance with no fuss. Whether you're a novice or experienced computer user, the benefits of EPP are immediate. Finally, nVIDIA's nForce 650i SLI supports nTune which is arguably the best enthusiast software available. It allows users to control their systems and realistically with nTune, there is no longer a need to go into the BIOS to adjust settings, now you can do everything within Windows XP or Vista!
Up next, the PCSTATS overclocking tests!