Overclocking Results:
So far most of the GeForce 8600GTS videocards PCSTATS has gotten into the labs have been pretty good overclockers. Let's see what this Foxconn model can do for us, eh! The Foxconn 8600GTS-256 has its core and memory speed clocked at 675 MHz and 2016 MHz respectively. PCSTATS will be using nVIDIA's nTune software to overclock this time around, and we'll be increasing the core speed in ~7 MHz increments.
Let slip the dogs of war and let the overclocking begin! From a starting point of 675 MHz we're aiming to get at least 800 MHz out of the core. The GeForce 8600GTS easily cracked 700 MHz, 750MHz and 775MHz before settling on 780 MHz. It was right about then that the driver started to complain about failing its test. nTune is so picky. Unfortunately Foxconn's 8600GTS-256 really couldn't handle this speed whilst running benchmarks, so we were forced to drop the speed down to 763 MHz to keep it stable.
Next up was the 256MB of GDDR3 memory, starting at 2016 MHz it will be overclocked in ~15 MHz steps. Considering the fact that the GeForce 8600GTS memory controller is only 128 bits wide, overclocking the memory will most likely improve performance more than increasing the core clock speed.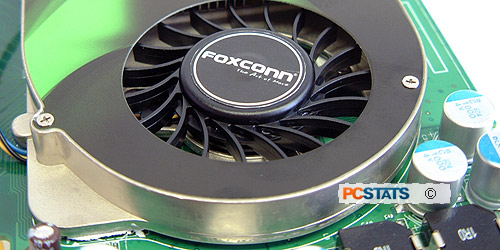 Much to our surprise, the memory easily sailed through 2100 MHz and 2200 MHz. It stopped dead in its tracks at 2242 MHz, which is pretty darn good. The GeForce 8600GTS core and GDDR3 memory on this Foxconn videocard had no problems running at their respective maximum clock speeds.
Prelude to Benchmarks
The details of how the Foxconn 8600GTS-256 test system was configured for benchmarking; the specific hardware, software drivers, operating system and benchmark versions are indicated below. In the second column are the general specs for the reference platforms this nVIDIA GeForce 8600GTS 256MB based videocard is to be compared against. Please take a moment to look over PCSTATS test system configurations before moving on to the individual benchmark results on the next page.

PCSTATS Test System Configurations