Overclocking Results: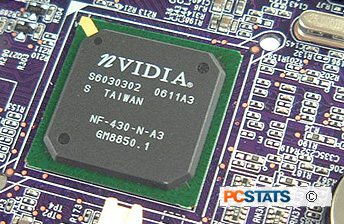 PCSTATS has been pleasantly surprised by how well the last couple ECS motherboards have overclocked. How the NF650iSLIT-A board will handle is anyone's guess.
There are no multiplier adjustments in the BIOS so the Intel Core 2 Duo E6600 processor will max out before the motherboard does. Oh well, here goes nothing. The Corsair DOMINATOR Twin2X2048-8888C4DF memory was set to run at DDR2-533 MHz mode, this way it will not bottleneck the system.
Starting at 266 MHz FSB the clock speed was increased 5 MHz at a time. We quickly learned the board had absolutely no problems running past 300 MHz FSB. Continuing, the NF650iSLIT-A motherboard breezed past 333 MHz FSB (better known as 1333 MHz bus speed) without any issues.
To reach 350 MHz, the CPU voltage had to be increased to 1.35V. At 360 MHz the CPU voltage again had to be increased to 1.4V.
With no CPU clock multiplier adjustments the ECS NF650iSLIT-A reached a maximum speed of 412 MHz FSB before it hit the wall. That is pretty darn awesome! Note that the nVIDIA nForce 650i did not require any voltage bump to get to this speed, so the processor was holding the motherboard back for sure.
The ECS BIOS:
ECS has all the basic memory timing adjustments as well as a few "advanced" tweaks too. If you like to get the maximum performance out of your system, you'll definitely appreciate these settings here.
You can adjust the bus speed (divide by 4 to get FSB) and memory speeds independent of each other. The motherboard can be adjusted between 400-2500 MHz (100-625 MHz FSB) in 1 MHz increments.
As you can see here ECS gives the end user pretty good voltage options. The maximum CPU voltage is 1.6V, FSB voltage 1.4V, Memory 2.2V and the Northbridge 1.5V.
Prelude to Benchmarks
The details of how the ECS NF650iSLIT-A motherboard test system was configured for benchmarking, including the specific hardware, software drivers, operating system and benchmark versions are indicated below. In the second column are the general specs for the reference platforms this nVIDIA nForce 650i based system is to be compared against. Please take a moment to look over PCSTATS test system configurations before moving on to the individual benchmark results.

PCSTATS Test System Configurations