Abstract: Quick and easy solutions for building a network don't come easy. Rebel's NetWinder, did. We tested it with trial by fire, and it faired rather well...
90% Rating:
Home > Reviews > Networking > Rebel Netwinder
Setup and installation
Fortunately, we were able to test the Netwinder with a T1-connection. The network we tested it on includes a variety of operating systems, including; Win98, Win2000, Mac O/S and even a small Linux box. Each of these nodes are connected to a 10/100 Hub, which is in turn hooked up to the Netwinder before finally jacking the Ethernet cord into a stealthy looking Cisco 1601-R router. 
At a glance, here is how the whole system was laid out for our tests (mouse over the components to take a peak) :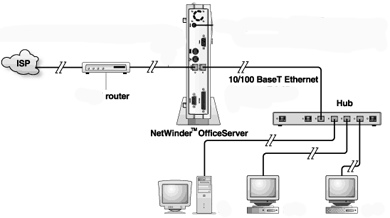 Probably one of the best aspects of this all-in-one solution is the set-up. It's actually... easy. Yes that's right, setting up an office server can be easy!  The cream coloured unit stands upright in a greenish plastic cradle that comes included. This enables proper cooling and allows easy access to it's backside, where everything gets plugged in. Unlike a hub, or router the Netwinder is more of a desktop piece of hardware. The bottom line is that cables and peripherals are easily hooked up to the device, its kept cool, and doesn't take up that much room. It has a footprint of only 8cm x 15cm.
The Installation
There are two ways to setup the Netwinder: directly from the unit itself - through Rebel's own nwconfig utility, or through a web interface that comes with the supplied CD.  Rebel no doubt prefers that Netwinder users use the web-based Graphical User Interface (GUI), rather than playing with the Netwinder directly.  Remember that this is a 'plug and play server', and as such, it's intended for a mass audience that likely doesn't know much about Linux.
Suppressing the urge to do the installation and configuration directly from the Netwinder console, I fired up the GUI.  The installation is written simply, explaining each step as you progress through it - I whipped through the setup in a manner of minutes.  Here is a look at one of the nicest installation screens you may ever see: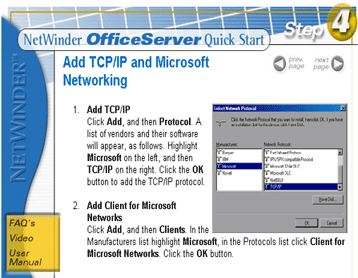 With the little guy installed and visible on the network, it was time to configure... 
SEARCH PCSTATS

---

Use the power of Google to search all of PCSTATS and the PCSTATS Forums. Tell us what you think of this new feature - FEEDBACK?