Abstract: While your PC may be doing nothing, all of a sudden you notice the hard drives are trashing around like the entire drive is being copied. Never fear, PCSTATS is here to help you stop Windows Vista from excessive hard drive usage, and show you how to free up some disk space too!

Home > Reviews > Beginners Guides > Microsoft Vista
Advanced Disk Cleanup Utility
The disk cleanup utility has another hidden menu which must be accessed by way of the command prompt. This gives you access to even more space-recovering options. To access the hidden cleanup menu, open an administrative command prompt by opening the 'start' menu and typing 'cmd' in the search bar. Do not press ENTER. Instead, right click on the 'cmd' program in the search results, and choose 'run as administrator' from the options.
Now type 'cleanmgr /sagetset: 1' and press ENTER.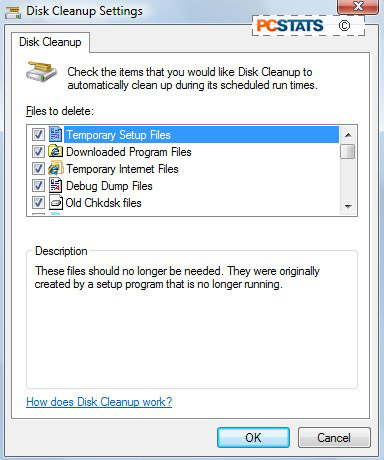 A different version of the cleanup wizard is now available to you. New options include removing old installation files, upgrade files and checkdisk fragments that may be stranded on your drive.

If you have any comments or questions, please post them in the PCSTATS Forums. Find out about this and many other reviews by joining the Weekly PCSTATS.com Newsletter today! Catch all of PCSTATS latest hardware reviews right here.
SEARCH PCSTATS

---

Use the power of Google to search all of PCSTATS and the PCSTATS Forums. Tell us what you think of this new feature - FEEDBACK?