Intel's P55 Express chipset is being geared up for the launch of Intel's new socket 1156/Lynnfield processors, which will form part of Intel's new lineup of Core i5 Processors. By now you're likely familiar with Intel's X58 Express chipset, and how much it's changed the design of socket 1366/Core i7 Intel motherboards – well I hope you're ready for an even bigger shake-up.
The Intel P55 Express chipset is an even more radical departure from chipzilla's traditional core logic approach.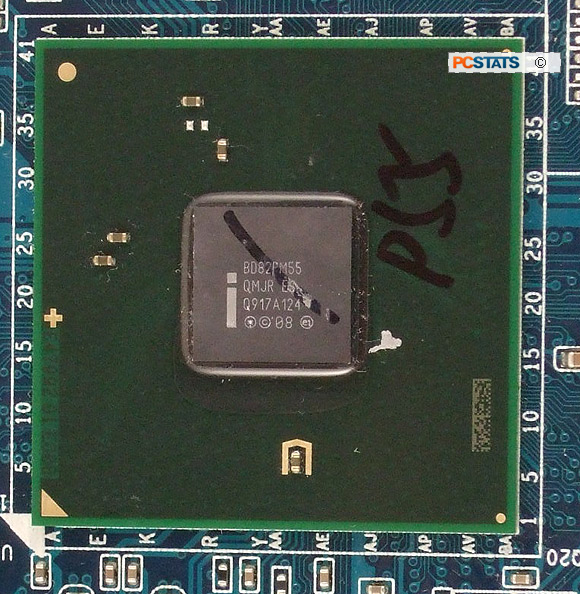 Intel P55 Express. It replaces the P45 Express and Intel ICH10 pairing.
As a brief refresher, the Intel X58 Express chipset marked the first time that Intel has moved a memory controller from the Northbridge and directly on to the processor. This not only allowed the processor direct access to memory, but also removed the need for the bottleneck-prone Front Side Bus, and introduced the new QuickPath Interface (QPI) as its replacement.
The Intel P55 Express chipset takes this a step further, with both the memory controller and 16 PCI Express 2.0 lanes now controlled directly by the socket 1156-Lynnfield CPU. The P55 Express Northbridge will also have up to eight of its own PCI Express lanes.
The changes to the PCI Express graphics sub-system won't have a huge impact on buyers, most P55 motherboards will still have three PCI Express slots that can be run in (x16/x4) or (x8/x8/x4) mode, the only difference is that now the first two slots will be handled directly by the CPU, which will have the nice side effect of removing some system latency.
And there's even better news: both NVIDIA and AMD have announced that SLI and CrossfireX support will be available to the Intel P55 Express chipset.
Although the P55 Express chipset is no longer handling memory itself, it's still important to note that memory compatibility on socket-1156/Lynnfield-compatible motherboards will be DDR3-exclusive, and run in dual-channel mode. Expect supported memory speeds to run from DDR3-800 up to DDR3-1333, with overclocking support going all the way up to DDR3-2000+.
Since the P55 Express Northbridge doesn't have many jobs left to do (since graphics and memory are now handled by the CPU), it actually doesn't need a very fast link to the processor. Instead of equipping the P55 chipset with a complex and expensive-to-produce QPI link, Intel has instead used a slower 2.0GB/s DMI link for the P55 core logic to communicate with the processor.
Both northbridge and southbridge have been merged into what Intel is now calling the P55 Platform Controller Hub. The storage and media interface capabilities are pretty similar to that of Intel's well-known ICH10R southbridge, with support for 14 USB 2.0 ports, six SATA 3Gb/s ports with support for RAID 0/1/5 and 10 modes, and gigabit Ethernet.
The first round of motherboards based on Intel's P55 Express chipset is scheduled for launch this fall, to coincide with Intel's launch of its new Lynnfield/Core i5 processors. More of the features that make this Gigabyte board stand out, coming right up.....