The quad-core AMD Phenom II X4 965 Black Edition processor is the fastest chip to date for the socket AM3 platform, and quite affordable at $265 CDN ($245 USD, £165 GBP). In terms of performance this 3.4GHz chip is slightly quicker in the benchmarks than the previous forerunner, the Phenom II X4 955 BE. Not surprising since the AMD Phenom II X4 965 BE and 955BE share the same 45nm AMD 'Deneb' silicon.
Overclocking is the name of the game with a Black Edition processor, and the socket AM3 Phenom II X4 965 Black Edition doesn't disappoint! Using a mix of multiplier and bus speed increases, PCSTATS was able to coax the Phenom II X4 965 Black Edition from its default 3.4GHz clock speed to a respectable 3.93GHz. Individually, the CPU multiplier overclocked as high as 19.5x on the chip PCSTATS tested, the Bus speed to a good 240MHz.
Enthusiasts will find the range of tweaking and voltage adjustments in the Gigabyte GA-MA790FXT-UD5P motherboard provide plenty of 'wiggle room' to take full advantage of a multiplier-unlocked CPU such as the Phenom II X4 965BE!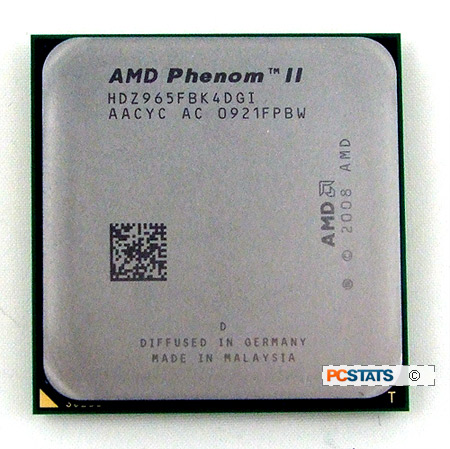 Beyond overclocking, one of the most endearing aspects of AMD socket AM3 processors like the AMD Phenom II X4 965 Black Edition is a wonderful degree of backwards compatibility with Socket AM2+ and AM2 motherboards, not to mention bilingual memory support for DDR2 and DDR3 RAM. That's set to change in 2010 as AMD roadmaps transition to DDR3, but for the time being you've got your pick of super-cheap DDR2 memory and a vast selection of AMD motherboards.
The 200MHz speed refresh has bumped power draw for the 3.4 GHz Phenom II X4 965 Black Edition to 140W (vs. 125W for the 955BE), but under most test conditions this amounts to roughly 10W extra total system power draw. In other words, you can hold on to your existing CPU cooler and power supply.
From a platform perspective, upgrading a Core 2 Duo (LGA775) PC to a Core i5 processor (LGA1156) is still somewhat pricey. The Core i5 demands a new motherboard and thermal solution... possibly a new power supply too. The question we cannot answer yet, is how the Core i5's performance stacks up against the Phenom II X4...
To sum it all up, AMD's quad-core 3.4GHz Phenom II X4 965 Black Edition is an easy CPU to recommend. In particular for those already running an AMD PC who want the performance in massive parallel tasks that quad-cores provide, the Phenom II X4 965 Black Edition does compete well against Intel's eight-thread Core i7 920.
Enthusiasts will appreciate the overclocking prowess that an unlocked CPU multiplier makes possible - overclocking AMD Black Edition chips is a dream! You owe it to yourself to consider AMD's Phenom II X4 965 Black Edition CPU, when it comes to sheer value for performance it's hard to argue with such an affordable platform as a whole!
Find out about this and many other reviews by joining the Weekly PCstats.com Newsletter today! Catch all of PCSTATS latest reviews right here.
Related Articles
Here are a few other articles that you might enjoy as well...
- AMD Athlon II X2 250 3.0 GHz Socket AM3 Processor Review
- Intel Core 2 Duo E8500 3.16GHz 1333MHz FSB Processor Review
- Intel Core 2 Duo E8400 3.0GHz 1333MHz FSB Processor Review
- AMD Phenom II X4 955 Black Edition 3.2 GHz Socket AM3 Processor Review
- Intel 32nm Westmere Processor Roadmap - Integrated Graphics CPU
- Intel Core 2 Duo E6750 2.66 GHz 1333MHz FSB Processor Review
- Intel Core 2 Duo E6600 2.4GHz Processor Review