Overclocking Results:
Intel has its black Extreme Edition processors and AMD has its extreme Black Edition processors, but what do the two CPUs have in common? You guessed it, both enthusiast grade chips are multiplier unlocked! Being 'multiplier unlocked' means the AMD Black Edition Phenom II X4 965 processor can be overclocked from its default clock speed of 3.4GHz by changing the clock multiplier alone. It can be overclocked in the standard way too, by increasing the bus speed, or a combination of the two.
That kind overclocking flexibility is wonderful stuff. Plus, by simply changing the CPU multiplier from 17x, to say 19x, the CPU will run faster without affecting the bus speed at all. Multiplier-based overclocking just makes it easy for enthusiasts to reach high CPU speeds with lower bus speeds - the best of both worlds really.
PCSTATS is going to use a combination of multiplier and bus speeds to overclock the Phenom II X4 965 BE chip, our aim is at least 4.0GHz, our hope is for 4.4GHz. Think the X4 965 BE will reach it?
The Pre-Overclocking Warm up...
Before any overclocking began we first set the dual channel Corsair XMS3-1600C9 memory to run in DDR3-800 MHz mode. This way the memory won't be holding the CPU back. A standard AMD reference AVC Z7U7414001 heatsink was used, but obviously a phase change cooler like the ECT Prometeia Mach II GT could have allowed us to push the CPU much further. For the latest and greatest cooling solutions have a look at PCSTATS' sister website, Frostytech.com.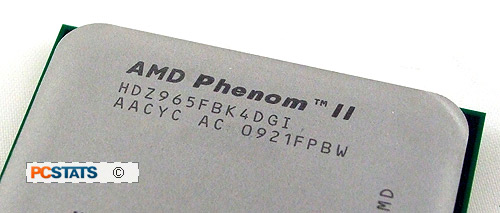 Overclocking is always luck of the draw, but if you choose good PC hardware the system likely won't hold the CPU back before it reaches its limits. PCSTATS has selected a Gigabyte GA-MA790FXT-UD5P motherboard, 750W PC Power and Cooling power supply, and two sticks of Corsair XMS3-1600C9 DDR3 memory.
Let's getting down to business. The Phenom II X4 965 BE uses a 17x multiplier by default, so we quickly bumped that up to 17.5x, then 18x... 19x without any issues. I was able to push the Phenom II X4 965 BE as far as 19.5x (effectively 3.9GHz) easily enough, but moving to 20.0x caused the system to crash while booting Vista. While the chip would POST at 20.0x, it wasn't exactly stable so we settled on a maximum multiplier overclock of 19.5x, or 3.90 GHz for the Phenom II X4 965 BE.
Not bad, but I think the Phenom II X4 965 BE can still go faster.
Bus Speed Overclocking
With the CPU multiplier reset back to the default setting of 17x, PCSTATS set about overclocking the Phenom II X4 965 BE by bus speed alone.
The Gigabyte GA-MA790FXT board was a little fusy in this regard, so it was a bit of a struggle getting the Phenom II X4 965 BE to POST at 240MHz bus. Unfortunately the 965 BE refused to boot Vista at this speed too....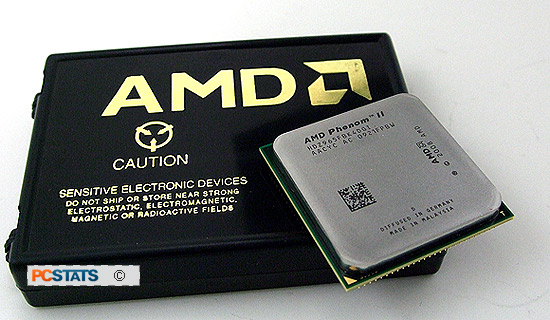 After a lot of trial and error, we eventually had to settle on a moderate overclock of 230MHz bus speed. It's certainly not the highest bus speed PCSTATS has ever squeezed out of a socket AM3 motherboard, but it did boost the overclocking result from 3.90 GHz to 3.91GHz!!
Bus + Multiplier Overclocking
For PCSTATS' final round of overclocking, the bus speed was reset to 200MHz and CPU multiplier to 17x, then we started increasing each setting towards its previous maximum. It didn't take very long before the Gigabyte MA790FXT motherboard was running at 230MHz, and the multiplier at 17.5x - effectively 4.025GHz. The system would POST, but not boot into Vista, so the bus had to be dropped down to 225MHz.
While your milage may vary, PCSTATS settled on 17.5x multiplier and 225MHz bus speed which left us with a CPU overclock of 3.93GHz! That's a good 530MHz overclock for the AMD Phenom II X4 965 Black Edition CPU!
Next up, PCSTATS has several round of benchmarks to test the Phenom II X4's multi-threading capabilities and how it stacks up against CPUs like the Core i7 920!