Overclocking Results:
AMD's 2.6GHz quad core 45nm Athlon II X4 620 processor is based on an architecture with a long and proud overclocking heritage, so you can bet PCSTATS is anticipating a fun round of overclocking from it.
Before the overclocking tests got underway, a set of Patriot DDR3-1600 memory was locked into the Gigabyte GA-MA790FXT-UD5P motherboard and set to run at DDR3-800 MHz mode. This way the memory won't hold the Socket AM3 CPU back from reaching its true potential. Keeping the CPU clock multiplier set to 13x (its default), the motherboard bus speed was increased slowly from 200MHz on up. Default clock speed on this chip is a respectable 2.6GHz... but PCSTATS is aiming for at least a 1GHz overclock above that.
Overclocking in 25 MHz increments, the Athlon II X4 620 CPU was rapidly pushed to 225MHz... 250... 275MHz bus speed without any signs of system instability, or the need to tweak any voltage settings in the Gigabyte BIOS. That's an overclock from 2.6GHz to 3.575GHz already!
Then, just as quickly, things went down hill. A bus speed of 300MHz was too much for the little Athlon II X4, and 285MHz Bus was a no-go as well.
Not to be discouraged, PCSTATS adjusted the bus speed to 280MHz and sure enough, Windows Vista finally loaded up without crashing.
Ultimately, the AMD Athlon II X4 620 processor overclocked from 2.6GHz to an impressive 3.64GHz on nothing more than standard air cooling, and without tweaking any voltage settings either. Nice! In the end, PCSTATS was able to squeeze a 1040MHz overclock out of this 95W TDP, 45nm chip. Not bad for a processor that costs just $99 bucks?
Prelude to Benchmarks
Over the following pages the AMD 2.6GHz Athlon II X4 620 processor will be put though PCSTATS standard set of gaming, productivity, and multi-threaded processor benchmarks. There are a wide variety of gaming and synthetic benchmarks here to illustrate what kind of performance boost users can expect from the latest quad-core socket AM3 AMD processor. Please take a moment to look over PCSTATS test system configurations before moving on to the individual benchmark results on the next several pages.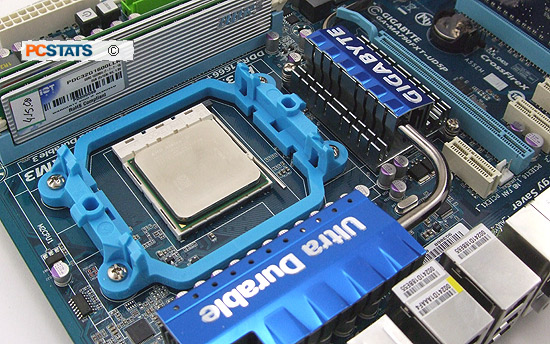 For this review PCSTATS is running the benchmark suite in both Microsoft Windows Vista and Microsoft Windows 7 operating systems. Hopefully this will help you make an informed decision in the coming months as Windows 7 adoption firms up. For the most part, benchmark results are not significantly different between the two operating systems, although certain tests do see advantages under Win 7.

PCSTATS Test System Configurations
Test System
Reference System #1
Reference System #2
Reference System #3
Processor:
AMD Phenom II X4 965 Black Edition
AMD Phenom II X4 955 Black Edition
AMD Phenom II X2 550 Black Edition
AMD Athlon II X4 620
AMD Athlon II X2 250

AMD Phenom II X3 720 Black Edition

Intel Core i7 920
Intel Core 2 Duo E8500
Intel Core 2 Duo E8400
CPU Process Technology:
45nm
45nm
45nm
45nm
Socket:
Socket AM3
Socket AM3/AM2+
Socket LGA1366
Socket LGA775
Clock Speed:

17x 200 MHz = 3.4 GHz (965 BE)
16x 200 MHz = 3.2 GHz(955 BE)
15.5x 200 MHz = 3.1 GHz (550BE)
13x 200 MHz = 2.6 GHz (AIIX4 620)
15x 200 MHz = 3.0 GHz (AIIX2 250)

14 x 200 MHz = 2.8 GHz
20 x 133 MHz = 2.67 GHz
9.5 x 333 MHz = 3.16GHz (E8500)
9 x 333 MHz = 3.0 GHz< BR > (E8500)
Motherboard:
Gigabyte GA-MA790FXT-UD5P (AMD 790FX)
ASUS M4A78T-E (AMD 790GX)*
ASUS M3A78-T (AMD 790GX)

MSI X58 Platinum (X58 Express)

MSI X48 Platinum (X48 Express)

Videocard:
ASUS ENGTS250 DK
(Geforce GTS250)
MSI NX8800GTS-T2D320E
(Geforce 8800GTS)
ASUS ENGTS250 DK
(Geforce GTS 250)
MSI NX8800GTS-T2D320E
(Geforce 8800GTS)
Memory:

2x2GB Corsair XMS3-1600C9 DDR3
2x1GB Patriot PDC32G1600LLK DDR3

2x1GB Patriot PDC32G1600LLK DDR3*
2x1GB Corsair Twin2X-8888C4D DDR2
3x2GB Corsair TR3X6G1600C8D DDR3

2x1GB Patriot PDC32G1600LLK DDR3

Hard Drive:
Optical Drive:

ASUS BC-1205PT-BD

Power Supply:

PC Power & Cooling TurboCool 750W

Heatsink:

Athlon64 K8 Reference Heatsink

Intel Reference 1366 Heatsink
Intel Reference 775 Heatsink
Software Setup:

Microsoft Windows Vista Ultimate
Microsoft Windows 7 Ultimate
AMD Catalyst 9.8
nVIDIA Forceware 190.62

Microsoft Windows Vista Ultimate
AMD Catalyst 9.1
nVIDIA Forceware 169.25

Microsoft Windows Vista Ultimate
Intel INF 9.1.0.1012
nVIDIA Forceware 182.08

Microsoft Windows Vista Ultimate
Intel INF 9.0.0.1008
nVIDIA Forceware 169.25

Benchmarks:

System Benchmarks:
SYSmark 2007
PCMark Vantage
SiSoft Sandra 2009

Calculation B/M:
Super Pi 1.5
wPrime 2.0
ScienceMark 2.3
WinRAR 3.8
Bibble 5

Rendering B/M:
Cinebench R10
POV-Ray 3.7
SPECviewPerf 10

Gaming B/M:
3DMark06
3DMark Vantage
Cyrsis
FEAR