Abstract: Gigabyte's GA-P55-UD5 socket-1156 motherboard is an enthusiast grade Intel P55 Express platform with a ton of extra features packed into it. Along with the obvious support of Intel Core i5 and Core i7 800-series socket 1156 processors, the GA-P55-UD5 board features three physical PCI Express x16 2.0 slots that support both ATI Crossfire and NVIDIA SLI.
83% Rating:
Home > Reviews > Motherboards > Gigabyte GA-P55-UD5
Gigabyte Smart 6 - Software Bundle
Gigabyte has unveiled a suite of software and hardware technologies which made their debut with the P55-generation of motherboards.
For quite some time, Gigabyte has placed two Basic Input Output System (BIOS) chips on its motherboards. The secondary BIOS chip works as a physical backup should the primary BIOS chip fail. With Smart DualBIOS, Gigabyte has doubled the memory size from 8MB up to 16MB, and the extra memory means that these BIOS chips can now do some new tricks.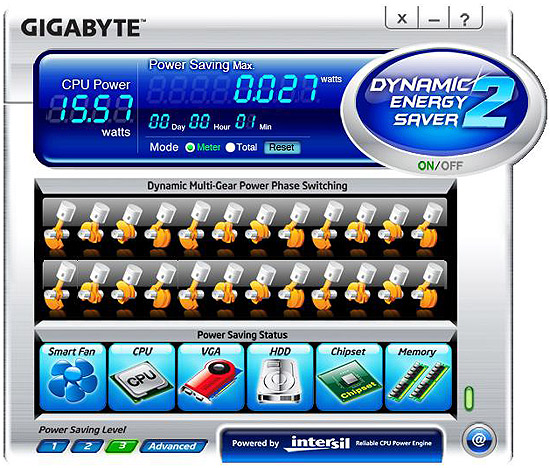 Smart DualBios can save critical data such as passwords into memory, or even work as a scheduler for important dates and events.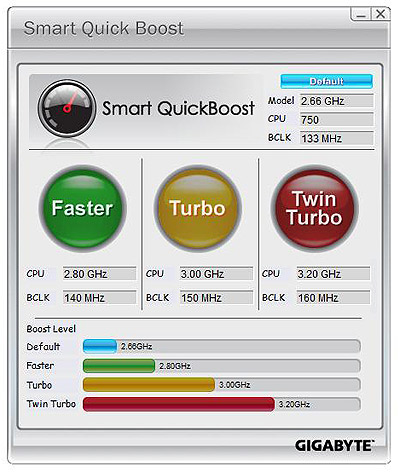 Smart QuickBoost is a built-in system tuning feature can adjust CPU speed on the fly, for dynamic processor overclocking inside of windows. Smart QuickBoost has three levels of overclocking that will adjust processor speeds up to 400MHz (3x133MHz) above the CPU's stock speed. This feature works well when paired with Smart QuickBoot, which has two modes. The first bypasses BIOS hardware checks that can take a few seconds during start-up, while the second enables a hybrid S3 (suspend) and S4 (hibernate) state, which allows the system to store its last used state, which allows the system to power on and resume exactly where it left off last time.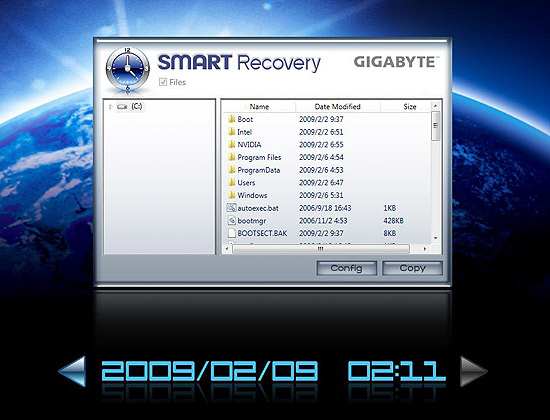 Gigabyte's Smart Recovery utility allows for system backup by creating snapshots of the hard drive periodically, so it's possible to restore deleted or altered files and settings from several different dates in the past. Smart Recorder is a system logging tool will monitor when your computer has been turned on or off, as well as keeping a log of when large amounts of data are transferred between hard drives.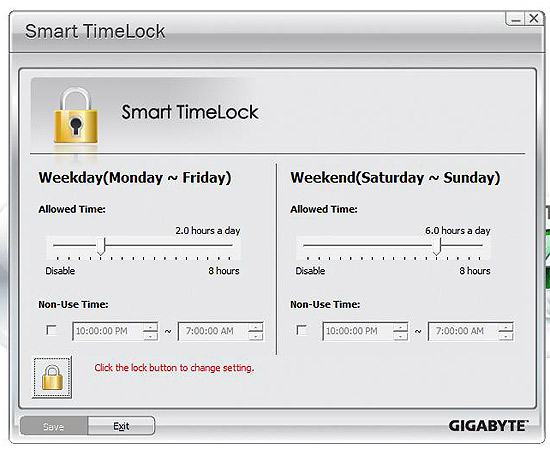 Finally, Scheduling using Gigabyte's Smart Timelock feature can lock down the system during set hours on certain days of the week, for both system security purposes and parental control.
PCSTATS takes a closer look at the Core i5 Intel P55 Express platform next, then it's onto overclocking the Gigabyte GA-P55-UD5 motherboard and benchmarks!
SEARCH PCSTATS

---

Use the power of Google to search all of PCSTATS and the PCSTATS Forums. Tell us what you think of this new feature - FEEDBACK?