Overclocking Results:
Intel's Core i5 processors slip into a new class of motherboards with 1156-pin CPU sockets, follow in AMD's integrated memory controller footsteps and take on much of the responsibilities previously relegated to the motherboard's northbridge chipset. In other words, a lot has changed. Overclocking methodologies change along with CPU architectures, but this time around the good old Front Side Bus is nowhere to be seen, replaced by a similar number called BCLK - base clock. Architectural CPU changes bring about new challenges, new possibilities and of course, new overclocking potential!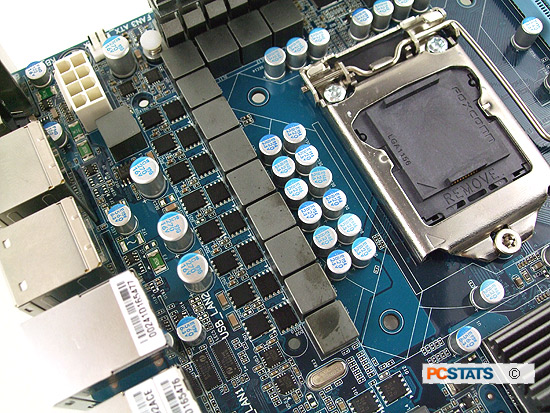 Before the Core i5 750 overclocking commenced, PCSTATS installed two sticks of 2GB Corsair CMD4GX3M2A1600C8 DDR3 RAM into the Gigabyte GA-P55-UD5 motherboard. High quality, low latency memory is the cornerstone of a successful overclocking attempt, and Corsair is among the best performance memory makers out there.
The Corsair CMD4GX3M2A1600C8 memory was set to run in DDR3-800 MHz mode, so as not to hold the CPU back. All CPU speed throttling options were disabled in the Gigabyte GA-P55-UD5 BIOS, including C1E state, and Speedstep/EIST. The standard Intel reference socket 1156 heatsink was used for cooling.
We adjusted the Core i5 750's CPU multiplier down to 12x, the base clock was then slowly increased from 133MHz towards a goal of at least 210 MHz - the speed PCSTATS overclocked the very similar GA-P55-UD3R board to. BCLK was successfully raised in 15 MHz increments.
Moving from 133MHz too 150MHz and 175MHz BLCK was easy and uneventful, but from there the going got tough. The board crashed at 200MHz when loading Windows Vista... After a lot of frustration we eventually settled on an overclocked BCLK speed of 195MHz. Not the greatest result PCSTATS has seen from the Intel P55 and Core i7 750.
Inside the Motherboard BIOS
Voltage tuning is just as important as ever when overclocking or tweaking Intel's socket 1156 processors. Gigabyte's GA-P55-UD5 allows pretty much every element of the chipset and processor to be overvolted.
The Gigabyte GA-P55-UD5 allows you to tweak pretty much every element of the Intel P55 Express chipset and it accompanying Core i5 or Core i7 800-series CPU. You can also set both the chipset and processor to various automatic overclocking settings if you don't feel like fussing around with BIOS values.
Memory settings can be tuned for channel-specific timings, in case you're mixing and matching DRAM modules.
Voltage settings with an Intel Core i5 or Core i7 800-series chipset are a little different because the processor contains a PCI Express controller. This means overvolting the processor will also overvolt the PCI Express controller, which can make extreme overclocks a little difficult.
Overclocking the BCLK is the most direct way of overclocking an Intel Core i5 or Core i7 800-series processor, the advanced clock control settings allow for fine-tuning of the frequency modulation rates.
Now it's time to set the Gigabyte GA-P55-UD5 motherboard up on the test bench and look at its power draw figures... then benchmarks!