The newly designed memory slots on this motherboard are intended to make installing or removing modules easier when a videocard is installed, so on the side nearest the videocard the normal clasp is absent. It helps in some situations, and frankly we here at PCSTATS tend to install memory from the side instead of straight down anyway, so I'm sure it will help. Right next to the memory slots are the ASUS Q-Design switches.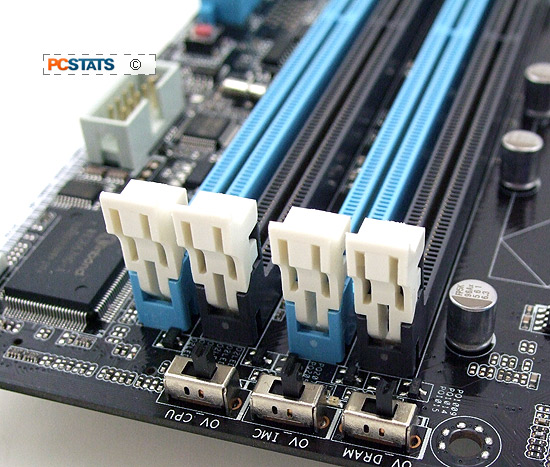 ASUS Q-Design memory module, integrated memory controller and CPU over volting

Special memory DIMMs.
The Q-Design switches allow users to enable or disable the advanced memory module, integrated memory controller and CPU over-volting settings in the BIOS. The average voltage adjustment range for the CPU is between 0.85V - 1.7V, the advanced menu will boost that to a potentially chip frying 1.25V - 2.1V. Use these advanced controls with caution and read the half-page of warning text that goes with them... plus, strap on suitable cooling!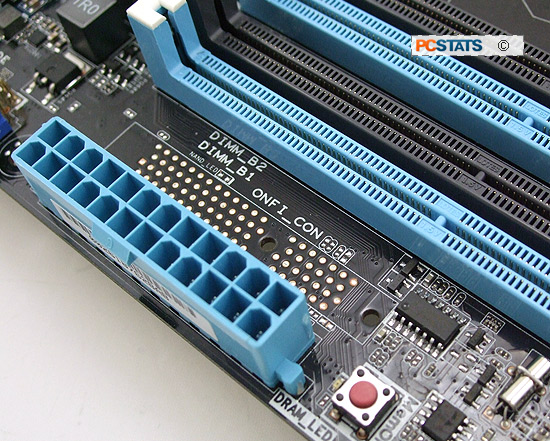 ASUS MemOK! and special memory DIMMs.
The MemOK! feature is a good one to have since it lights up when a memory module is not properly installed. Pressing the button will command the system to run through several failsafe memory settings at boot too. The red light is part of the Q-Led system... basically a red light indicating a device isn't correctly installed, or that item is preventing the PC from booting.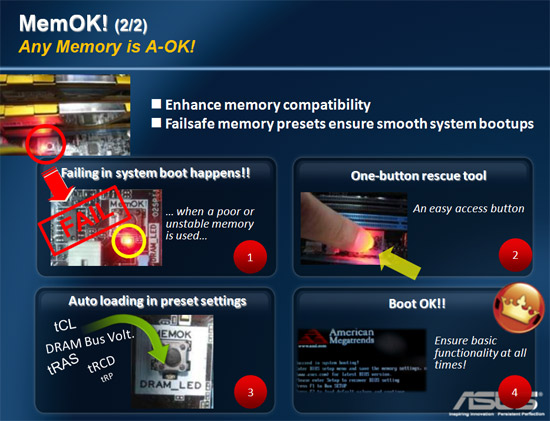 ASUS MemOK!
Fancy remotes, Firewire, SLI and Crossfire support will set you back about $200 CDN ($215 USD, £135 GBP) for the ASUS P7P55D Deluxe motherboard. It's priced at a premium compared to the basic Intel's P55 Express platform, so overclockers will want to aim for this puppy. As PCSTATS has already covered the Intel P55 chipset in quite some detail we're omitting that core-logic discussion from this review. To read about the Intel P55 Express chipset please see here.
Core i5 Processor and Socket 1156
Every new processor architecture calls for a new CPU socket, and this time around it's an 1156-pin Land Grid Array. This is the new socket 1156 on the ASUS P7P55D Deluxe motherboard. According to Intel, the new socket itself uses 25% less metal than the LGA775 package... multiply that by 10 million motherboards and that's a lot of metal and energy which has been conserved.

Like socket 775 processors, the Intel Core i5 chips are pinless.
The LGA1156 socket is slightly longer than LGA775 so there won't be an issues with mistakenly installing an older CPU into it. It's also not going to be compatible with any socket 775 heatsink you might have. The four holes around the CPU socket are spaced a little bit differently so they don't line up with socket 775 mounting brackets.
Unfortunately Intel has mandated that socket LGA775, LGA1156 and LGA1366 heatsink mounting holes are all going to be spaced a bit different (72mm, 75mm and 80mm on center respectively). The same injection molded plastic Intel C33389 reference fastener is used on all three thermal solution systems, so I can't say we understand why Intel didn't just pick a standard new size, say 80mm, and stick with that for Core i5 and Core i3 processors.
With that out of the way, let's get a little more familiar with the ASUS P7P55D Deluxe motherboard.