Overclocking Results:
Overclocking methodologies change along with CPU architectures, but this time around the good old Front Side Bus is nowhere to be seen, replaced by a similar number called BCLK - base clock. Architectural CPU changes bring about new challenges, new possibilities and of course, new overclocking potential!
Before the Core i5 750 overclocking commenced, PCSTATS installed two sticks of 2GB Corsair CMD4GX3M2A1600C8 DDR3 RAM into the ASUS P7P55D Deluxe motherboard. High quality, low latency memory is the cornerstone of a successful overclocking attempt, and Corsair is among the best performance memory makers out there.
The Corsair CMD4GX3M2A1600C8 memory was set to run in DDR3-800 MHz mode, so as not to hold the CPU back. All CPU speed throttling options were disabled in the P7P55D Deluxe BIOS, including C1E state, and Speedstep/EIST. The standard Intel reference socket 1156 heatsink was used for cooling.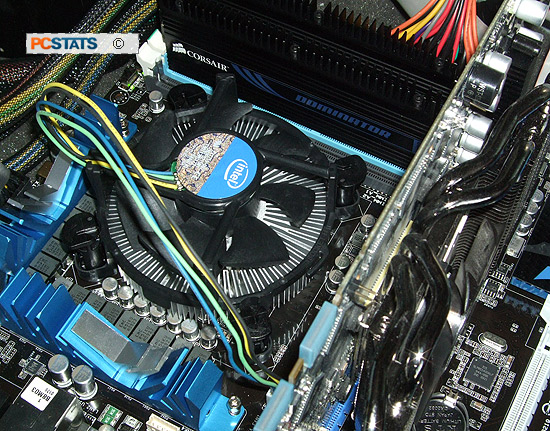 We adjusted the Core i5 750's CPU multiplier down to 12x, the base clock was then slowly increased from 133MHz towards 200 MHz. The P7P55D Deluxe motherboard's BCLK was successfully raised in 15 MHz increments.
So how much overclocking do all of the ASUS P7P55D Deluxe's extras actually get you? Well, PCSTATS was able to raise the BCLK from its native 133MHz speed up to 215MHz without any problems, but anything higher resulted in stability issues.
As an overclock this is pretty good, but not significantly better than the Gigabyte GA-P55-UD3R motherboard which overclocked to 210MHz using the same methods and processor... so we might be CPU limited on this end.
Let's take a look inside the BIOS:
ASUS' AI overclocking features cover everything you would expect for an enthusiast motherboard. Most importantly is that it has a full range of voltage options that can be used to tune the Intel PCH, the CPU or the DDR3 memory.
DRAM timings are also extensive, and in a nice move the system's current RAM settings are listed automatically, instead of requiring the user to memorize or guess what RAM timings were set previously.
Just how much power does the ASUS P7P55D Deluxe draw? Let's find out!