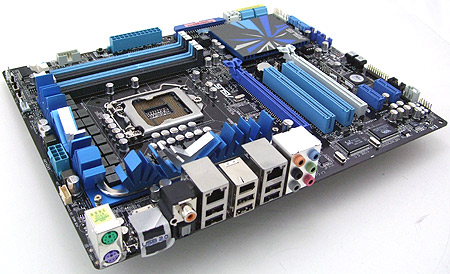 With Intel's P55 Express chipset still in its infancy, it's not surprising that a lot of manufacturers are rushing to fill up holes in the market. The problem is that the motherboard's feature sets are ballooning, so there is a lot more to consider before building your next PC.
Since the memory and PCI Express graphics controllers are now handled by the processor, the Intel P55 Express Platform Controller Hub is essentially just a southbridge. Motherboard manufacturers have to go to greater extremes to differentiate their boards; which brings us to the ASUS P7P55D Deluxe.
The ASUS P7P55D Deluxe is a very solid Intel Core i5/P55 Express motherboard, and comes with just about everything you'd expect nowadays.
That includes a pair of PCI Express 2.0 slots that can be run in (x16/x0) or (x8/x8) with NVIDIA SLI or ATI Crossfire, dual channels of DDR3 memory that support speeds up to DDR3-2133 and some extra frills like Firewire support. For all this, and the special ASUS overclocking list of tools and tweaks you can expect to fork over around $200 CDN ($215 USD, £135 GBP) for the ASUS P7P55D Deluxe motherboard.
Benchmarks showed pretty flat results, which is what you'd naturally expect from identical chipsets. A P55 Express board is going to perform at stock like the next - we all know this. Where the ASUS P7P55D Deluxe motherboard shines is in its overclocking and endless list of features. PCSTATS was able to overclock the ASUS P7P55D Deluxe's BCLK to a modest 215MHz, but as overclocking is luck of the draw it may just be our Core i5 750 is a poor overclocker.
Ultimately the tools are there if overclocking is something you'd like to try, and with the right memory and processor the ASUS P7P55D Deluxe will give you all the tools you need to go far. Bottom line, the P7P55D Deluxe is a very solid motherboard, with a lot of functionality and a few neat extras.
Find out about this and many other reviews by joining the Weekly PCstats.com Newsletter today! Catch all of PCSTATS latest reviews right here.
Related Articles
Here are a few other articles that you might enjoy as well...
- ASUS M4A78T-E AMD 790GX Socket AM3 Motherboard Review
- ASUS Striker II NSE nVidia nForce 790i SLI Motherboard Review
- ASUS M3A78-T AMD 790GX Socket AM2+ Motherboard Review
- ASUS P5E3 Premium/Wifi-AP.N Intel X48 Express Motherboard Review
- ASUS GA-X48-DS5 Intel X48 Express Motherboard Review
- ASUS P5Q-EM Intel G45 Express Motherboard Review