Overclocking Results:
The ASUS ENGTX480 2DI/1536MD5 videocard ships clocked at 701MHz GPU, 924MHz memory and 1401MHz shader, but what fun is that?
Using nVidia's nTune utility PCSTATS is going to try its hand at overclocking this Fermi-based GTX 480 a little faster...
Needless to say, we had to switch out the usual power supply typically used for videocard benchmarking at PCSTATS with a newer 80-Plus gold rated Seasonic X750 model that offers enough power to actually power the monster GTX480!
GPU Overclocking
Using nVidia's nTune software, the GPU was overclocked from its default state of 701MHz. The Geforce GTX 480 easily managed 759MHz, 804MHz, 836MHz, 872MHz and 894MH, but crashed when we attempted to run it at 894MHz or even 882MHz. Eventually we settled on a max GTX480 GPU overclock of 869MHz, which pushed the shaders up from 1401MHz to 1738MHz in the process.
Memory Overclocking
With the GPU back at default speeds our attention turned to the 1536MB of GDDR5 memory. Using nVidia's nTune software, the memory was overclocked from its default state of 924MHz (or 3696MHz quad-pumped) in small increments. The RAM easily managed 1023MHz but caused the system to crash if pushed to 1109MHz. After a few more minutes of different clock speeds, and burning our fingers on the GTX480's heatsink a couple times as fans were repositioned around it, PCSTATS finally settled on a max GDDR5 memory overclock of 1055MHz, or 4220MHz quad-pumped.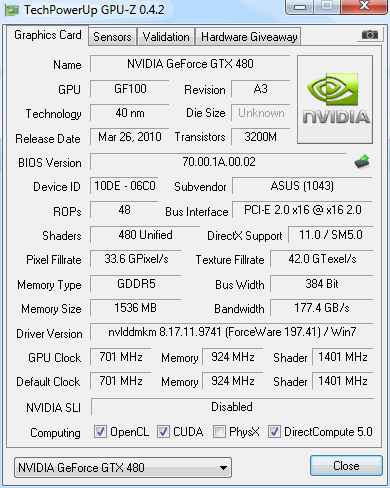 Default settings for the GTX480 Videocard.
Overclocking both the NVidia Geforce GTX480 GPU and GDDR5 memory together proved to be way more difficult. The Geforce GTX480 already spits out a ton of heat in its standard operating parameters, so the first step was to boost fan speed to 100%. The heatsink gets pretty hot, and we managed to burn the back our hand a couple times as fans were repositioned near the ASUS ENGTX480 to provide additional cooling.
The first GPU/Memory overclocking attempt was 869MHz GPU / 1055MHz memory, which promptly crashed. Pressing on PCSTATS tried 848/1055... crash, 826/1042....crash, 819/1008.... okay! After a few more attempts we managed to increase the memory speed a little further for a final maximum overclock of 819MHz GPU and 1042MHz memory.
Prelude to Benchmarks
The details of how the ASUS ENGTX480 2DI/1536MD5 videocard was configured for benchmarking; the specific hardware, software drivers, operating system and benchmark versions are indicated below. All benchmarks for the videocard were run in Windows 7 Ultimate, the reference video cards were tested in both Windows XP and Vista for the DX10 benchmarks. PCSTATS is in the process of making the transition to a Windows 7 and Intel CPU test platform, so keep this in mind as you scan the benchmark results. In the second column are the general specs this videocard is compared against.
PCSTATS Test System Configurations
Benchmark results are organized by GPU manufacturer first (AMD/ATI or nVidia), then by GPU generation, and then by GPU class (high end, mainstream, value). This approach provides a clearer view of how performance can differ from generation to generation, and class to previous generation. The product being tested is marked with the red colour bar.