Intel's Core i5 750 processor heralds a new generation of mainstream computing. It's part of Intel's gradual progression towards having an entire system on a chip, integrating more components on to the processor which reduces overall motherboard and system costs. As a result Intel's P55 Express chipset is a more streamlined, elegant core logic. It also removes the aging Front Side Bus from mainstream computing,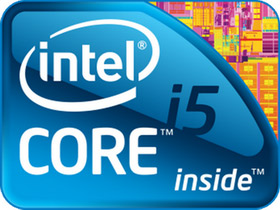 The Core i5 750, and its brothers the Core i7 860 and Core i7 870, are what Intel does best: make an affordable line of next-generation mainstream processors that outperform the most expensive enthusiast processors from last generation. Intel's Core i5 700-series and Core i7 800-series processors can outperform even the fastest of Intel's Core 2 Duo or Core 2 Quad processors.
Intel's most recent processors also don't have much to fear from AMD; the top-end Phenom II X4 955 and 965 Black Edition processors are often outperformed by the Intel Core i5 750 processor. The Phenoms also cost more money, generate more heat, and draw much more power. That's no small accomplishment, but Intel hasn't stopped there.
Intel's Core i5 700-series and Core i7 700-series bring an end to the dual-core versus quad-core debate. Until now quad-cores processors were great for multi-threading, but meant more power draw, more heat and fewer megahertz than dual-core processors. Thanks to Turbo Boost, your processor can turn off cores for a high clock speed in single-threaded applications or intelligently optimize itself for quad-core parallel processing, depending on what kind of computing tasks you throw at it. PCSTATS' sample Core i5 750 processor also overclocked like a champ, rising from 2.66GHz up to 3.94GHz using just the default voltages and Intel's stock cooler.
This smarter, more efficient design extends to the Core i5 750's power consumption as well. It's the most power efficient quad-core processor that PCSTATS has ever tested, and thanks to improved power management schemes it can manage a very low 95W TDP.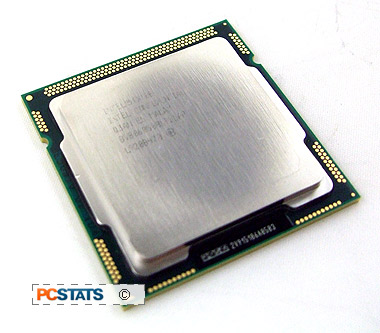 With such radical changes in performance, Intel's Core i5 700-series and Core i7-800 series are right in the middle of the 'sweet spot' of the mainstream processor landscape. Upgraders no longer have to deal with the dual-core to quad-core performance gap of Intel's Core 2 processor line or swallow the high prices of the Intel Core i7 900-series.
While I have just given them a lot of praise, there are a few problems with Intel's Core i5 700-series and Core i7-800 series of processors, and in particular the Core i5 750. The Intel Core i5 750 is the baby of the "Nehalem" processor family and its lack of HyperThreading hurts its multi-threading performance enough that serious video encoders and ray tracers may want to upgrade to its bigger brother, the Core i7 860 processor.
The other problem is that all three of these processors are confusingly named. Currently Intel has socket 775, socket 1156 and socket 1366 processors and motherboards on the market, all of which have different motherboard, chipset and memory requirements.
To confuse matters more, Intel has split its Core i7 brand of processors so that some use socket 1156 and others use socket 1366. Remember, if you are looking to purchase a "Lynnfield" system, you'll need a Core i5 700-series processor or Core i7 800-series processor, as well as an Intel P55 Express chipset motherboard, dual-channel DDR3 memory, and a heatsink combination that's compatible with socket 1156.
These problems are minor however, and don't impede the Core i5 700-series and Core i7-800 series of processors from being a worthy successor to Intel's beloved Core 2 family of processors. Prices start at $220 CDN ($200 USD, 125 £GBP), for the Intel Core i5 750 processor, which can be paired with a $140 Intel P55 Express motherboard and a 4GB kit of dual-channel DDR3 memory for under $50... in other words around the same price you would have paid for a Core 2 Duo system. Intel's "Lynnfield" platform offers excellent value for the money.
Find out about this and many other reviews by joining the Weekly PCstats.com Newsletter today! Catch all of PCSTATS latest reviews right here.
Related Articles
Here are a few other articles that you might enjoy as well...
- AMD Phenom II X4 910e 2.6 GHz Quad-Core 65W Processor Review
- AMD Phenom II X2 555 Black Edition 3.2 GHz Socket AM3 Processor Review
- AMD Athlon II X4 635 2.9GHz Socket AM3 Quad-Core Processor Review
- AMD Phenom II X4 965 Black Edition 3.4 GHz Socket AM3 125W Processor Review
- AMD Athlon II X3 435 2.9 GHz Socket AM3 Triple-Core Processor Review
- AMD Athlon II X2 240e 2.8 GHz Socket AM3 Dual-Core 45W Processor Review
- AMD Athlon II X4 620 2.6 GHz Socket AM3 Quad-Core Processor Review
- AMD Phenom II X4 965 Black Edition 3.4 GHz Socket AM3 Processor Review
- AMD Phenom II X2 550 Black Edition 3.1 GHz Socket AM3 Processor Review
- AMD Athlon II X2 250 3.0 GHz Socket AM3 Processor Review
- Intel Core 2 Duo E8500 3.16GHz 1333MHz FSB Processor Review
- Intel Core 2 Duo E8400 3.0GHz 1333MHz FSB Processor Review
- AMD Phenom II X4 955 Black Edition 3.2 GHz Socket AM3 Processor Review
- AMD Phenom II X3 720 Black Edition 45nm Socket AM3 Processor Review
- Intel 32nm Westmere Processor Roadmap - Integrated Graphics CPU