Abstract: The Intel Core i5 750 processor is a mainstream quad-core CPU that promises enthusiast-level performance for the masses. The Core i5 750 is part of Intel's most recent generation of socket 1156 processors which include not only the Intel Core i5 700-series but also several Intel Core i7 800-series chips, codenamed "Lynnfield".
94% Rating:
Home > Reviews > CPU / Processors > Intel Core i5 750
Overclocking Report and Test System Specs
Overclocking Lynnfied - four cores to 4GHz?

Overclocking Results:
Intel's Core i5 processors slip into a new class of motherboards with 1156-pin CPU sockets, following in AMD's integrated memory controller footsteps and take on much of the responsibilities previously relegated to the motherboard's northbridge chipset. In other words, a lot has changed. Overclocking methodologies change along with CPU architectures, but this time around the good old Front Side Bus is nowhere to be seen, replaced by a similar number called BCLK - base clock. Architectural CPU changes bring about new challenges, new possibilities and of course, new overclocking potential!
The Intel Core i5 750 is ripe with overclocking potential if we are to believe the rumors from enthusiast forums. In this section PCSTATS is going to try and overclock the Core i5 750 by at least 1 GHz!
PCSTATS is still finding its feet with Core i5 overclocking, but from what we're seeing the choice of motherboard plays an important role. PCSTATS will be overclocking the Intel Core i5 750 processor (S-Spec: SLBCH) on Gigabyte's GA-P55-UD6 motherboard, an Intel P55 Express platform with a BCLK headroom of about 210MHz according to our tests.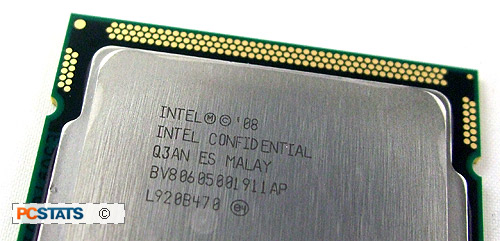 Before the Core i5 750 overclocking commenced, PCSTATS installed two sticks of 2GB Corsair CMD4GX3M2A1600C8 DDR3 RAM. High quality, low latency memory is the cornerstone of a successful overclocking attempt, and Corsair is among the best performance memory makers out there. The Corsair CMD4GX3M2A1600C8 memory was set to run in DDR3-1333 MHz mode, so as not to hold the CPU back. All CPU speed throttling options were disabled in the BIOS, including C1E state, and Speedstep/EIST. The standard Intel reference socket 1156 heatsink was used for cooling.
Keeping the Core i5 750's clock multiplier set to 20x, the base clock was slowly increased from 133MHz towards 200 MHz. The highest speed we successfully POSTed at was 205MHz BCLK (effective 4.1GHz CPU speed)! Not shabby at all. To get the PC stable enough to load Windows Vista required a little more fine tuning, and after a few minutes of this we settled on a very nice overclock of 20 x 197MHz = 3.94GHz with the Intel Core i5 750 processor.
That's an overclock of 1.28GHz over the processor's default clock speed of 2.666GHz!
Of course, even if you don't overclock your processor manually, you can still take advantage of the Core i5 750's large amounts of headroom through enabling Turbo Boost. Turbo doesn't give quite as big a boost as manual overclocking does, but it is a lot easier to manage automatically.
Prelude to Benchmarks
Over the following page we'll be running Intel's 2.66GHz Core i5 750 processor though PCSTATS standard set of gaming, productivity, and multi-threaded processor benchmarks. There are a wide variety of gaming and synthetic benchmarks here to illustrate what kind of performance boost users can expect from the latest quad-core socket LGA1156 Intel processor. Please take a moment to look over PCSTATS test system configurations before moving on to the individual benchmark results on the next several pages.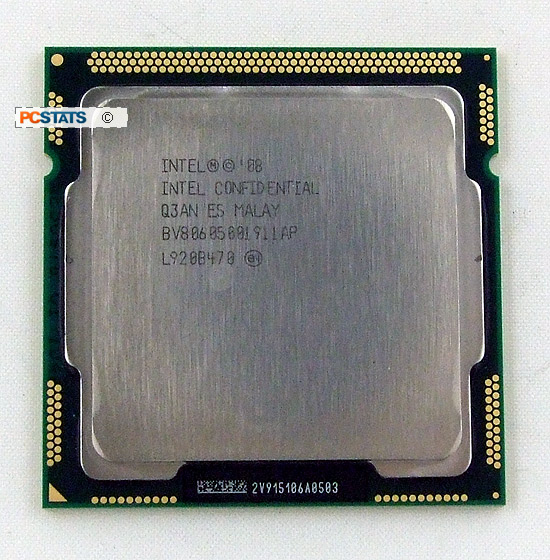 PCSTATS is running benchmarks for the Intel Core i5 750 processor under Microsoft Windows Vista and Microsoft Windows 7, to get an idea of how Intel's most recent line of mainstream processors will fare as well as indication of overall system performance in Microsoft Windows 7.

PCSTATS Test System Configurations
Reference System #1
Test System
Reference System #2
Reference System #3
Processor:
AMD Phenom II X4 965 Black Edition
AMD Phenom II X4 955 Black Edition
AMD Phenom II X3 720 Black Edition
AMD Phenom II X2 550 Black Edition
AMD Athlon II X4 620
AMD Athlon II X3 435
AMD Athlon II X2 250
AMD Athlon II X2 240e

Intel Core i5 750

Intel Core i7 920
Intel Core 2 Duo E8500
Intel Core 2 Duo E8400
CPU Process Technology:
45nm
45nm
45nm
45nm
Socket:
Socket AM3
Socket LGA1156
Socket LGA1366
Socket LGA775
Clock Speed:

17x200 MHz = 3.4 GHz (965 BE)
16x200 MHz = 3.2 GHz (955 BE)
14x200 MHz = 2.8 GHz (720 BE)
15.5x200 MHz = 3.1 GHz (550BE)
13x200 MHz = 2.6 GHz (AIIX4 620)
14.5x200 MHz = 2.9 GHz (AIIX3 435)
15x200 MHz = 3.0 GHz (AIIX2 250)
14x200 MHz = 2.8 GHz (AIIX2 240e)


20x 133MHz = 2.66 GHz< /STRONG >
20 x 133 MHz = 2.67 GHz
9.5 x 333 MHz = 3.16GHz (E8500)
9 x 333 MHz = 3.0GHz (E8500)
Motherboard:
Gigabyte GA-MA790FXT-UD5P (AMD 790FX)
Gigabyte GA-P55-UD6 (Intel P55)

MSI X58 Platinum (X58 Express)

MSI X48 Platinum (X48 Express)

Videocard:
ASUS ENGTS250 DK
(Geforce GTS250)
ASUS ENGTS250 DK
(Geforce GTS250)
ASUS ENGTS250 DK
(Geforce GTS 250)
MSI NX8800GTS-T2D320E
(Geforce 8800GTS)
Memory:

2x2GB Corsair XMS3-1600C9 DDR3
2x1GB Patriot PDC32G1600LLK DDR3

2x2GB Corsair XMS3-1600C8 DDR3
3x2GB Corsair TR3X6G1600C8D DDR3

2x1GB Patriot PDC32G1600LLK DDR3

Hard Drive:
Optical Drive:

ASUS BC-1205PT-BD

Power Supply:

PC Power & Cooling TurboCool 750W

Heatsink:

Athlon64 K8 Reference Heatsink

Intel Reference 1156 Heatsink
Intel Reference 1366 Heatsink
Intel Reference 775 Heatsink
Software Setup:

Microsoft Windows Vista Ultimate
Microsoft Windows 7 Ultimate
AMD Catalyst 9.8
nVIDIA Forceware 190.62

Microsoft Windows Vista Ultimate
Microsoft Windows 7 Ultimate
Intel 9.1.1.1019
nVIDIA Forceware 190.62

Microsoft Windows Vista Ultimate
Intel INF 9.1.0.1012
nVIDIA Forceware 182.08

Microsoft Windows Vista Ultimate
Intel INF 9.0.0.1008
nVIDIA Forceware 169.25

Benchmarks:

System Benchmarks:
SYSmark 2007
PCMark Vantage
SiSoft Sandra 2009

Calculation B/M:
Super Pi 1.5
wPrime 2.0
ScienceMark 2.3
WinRAR 3.8
Bibble 5

Rendering B/M:
Cinebench R10
POV-Ray 3.7
SPECviewPerf 10

Gaming B/M:
3DMark06
3DMark Vantage
Cyrsis
FEAR
SEARCH PCSTATS

---

Use the power of Google to search all of PCSTATS and the PCSTATS Forums. Tell us what you think of this new feature - FEEDBACK?