Abstract: Seagate's GoFlex TV HD is a media player with network connectivity and hard drive dock. The pint-sized black box fits unobtrusively in a living room environment - unlike a full sized Media PC - and the GoFlex TV HD's on screen controls are simple to navigate via the infrared remote control. Full size media PCs often need a keyboard and mouse to be useful, having cooling fans that make a lot of noise and take up too much space...
80% Rating:
Home > Reviews > Home Theatre > Seagate GoFlexTV HD
Seagate GoFlexTv HD Hard Drive Docking Bay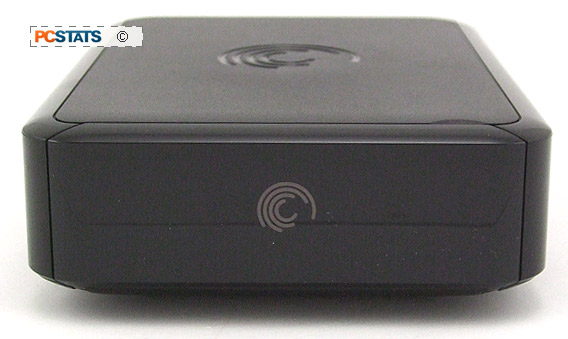 Front of the GoFlexTV HD with the hard drive bay flap closed.
Hidden behind the fold-down door is a proprietory external hard drive port for Seagate's FreeAgent portable hard drives. This little slot is the best selling point of the Seagate GoFlexTV HD media player in PCSTATS' opinion.
If you don't already own a Seagate FreeAgent (see PCSTATS review here) portable hard drive, check it out. These portable storage devices are incredibly handy by themselves and superbly compliment the GoFlex TV HD media player.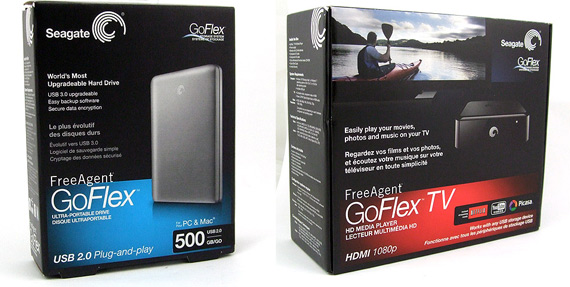 The 500GB Seagate FreeAgent GoFlex portable hard drive at left compliments the Seagate GoFlexTV media player quite well. The hard drive and media player are sold separately.
Although the hard drive bay is essentially just a SATA hot swap connector, it only accepts Seagate's pocket sized portable FreeAgent SATA hard drives. Nevertheless, a portable FreeAgent hard drive will let you store 500-1500GB of data in one location, circumvent Media Sharing over a dodgy network and the capacity limits of USB thumb drives.
External Seagate FreeAgent portable hard drive can connect to the Seagate GoFlexTV if you already own one.
In our time playing with the Seagate GoFlex TV HD we found the FreeAgent hard drive dock indispensible. Rather than running Cat5 cable out to the GoFlex TV HD, we simply loaded up the portable hard drive with movies and plugged it into the GoFlexTV HD.
The new content was immediatly indexed and quickly accessible.
The one thing the GoFlexTV HD cannot do is record content or download content streamed from the likes of YouTube or Netflix movies. Even with the portable hard drive in place, the storage is only for media playback.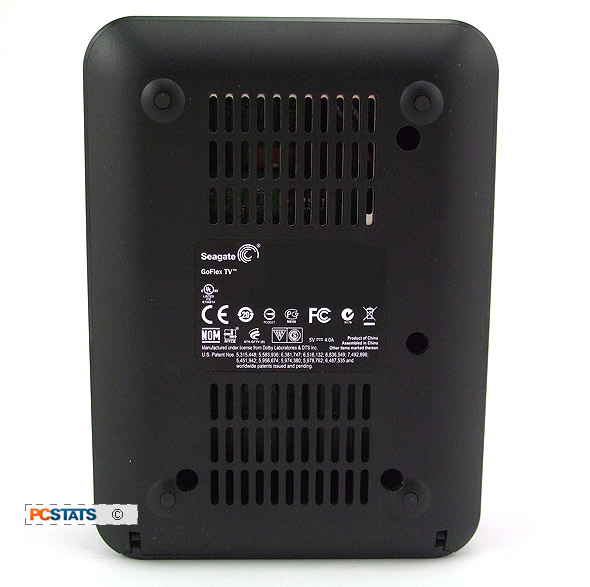 Bottom view.

Minimal air vents cool this fanless media player. A few hours movie watching will bring it to a toasty temperature, but the silence is golden.



SEARCH PCSTATS

---

Use the power of Google to search all of PCSTATS and the PCSTATS Forums. Tell us what you think of this new feature - FEEDBACK?