When the Seagate GoFlexTV HD is first turned on users are brought to this welcome screen. Connected devices are displayed along the bottom, embedded services like Netflix, YouTube, VTuner, Picassa, Flickr in the middle ribbon and digital content organizational categories at top. You can browse your content by Movie, Picture, Music or internet based sources.
Embedded Services
Netflix is integrated into the Seagate GoFlexTV so you can stream digital movies directly to the device over your home internet connection (provided Ethernet is connected to the GoFlexTV). This service is available in the US and CANADA only, requires a fee based subscription with Netflix and may impact your monthly internet bill if streaming movies causes you to go past your data cap.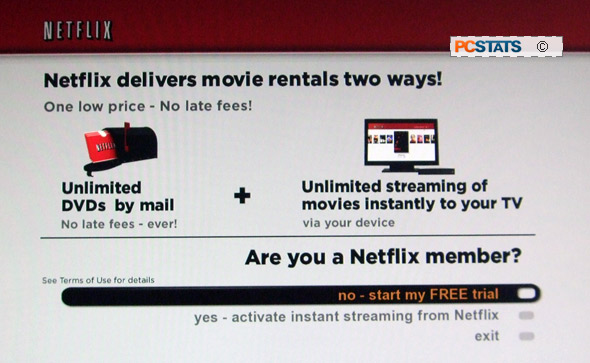 Netflix.
Embedded Video Feeds
There are a handful of embedded video feeds bundled in with the Seagate GoFlexTV HD, in different languages. PCSTATS didn't find all that much of interest in this section and we've subsequentially ignored the videofeeds tab ever since.
Internet Radio
Here's an example of the internet radio feature built into the Seagate GoFlexTV HD. This service is free to use and indexes several hundred internet radio stations based on geographical region or category. Internet radio is a great way to listen to the best radio stations from across the globe and avoid local FM/AM stations which may be too commercial heavy. PCSTATS recommends BBC 6-Music . :)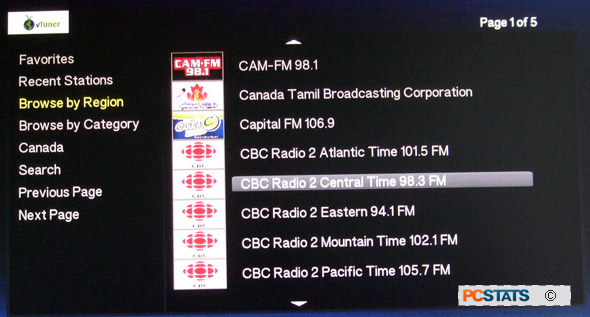 Internet Radio
Weather Forecasting
It wouldn't be a media player if it didn't include regional weather forecasting.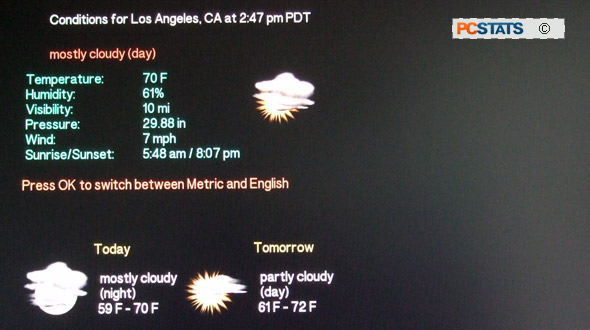 Weather Report
Digital Content
Your digital content is broken down into three main sections: movie, picture and music. Each of those sections is organized in predetermined lists, allowing you to browse all the files, folders, sort through the files alphabetically, or by date. Music has a few more options than the rest, since more metadata is included inside MP3 files relating to Artist/Album etc. The GoflexTV HD will of course allow users to browse the general file structure and located the content they want in that manner.
Digital Content: Movies
When connected via HDMI cable to a high definition display the Seagate GoFlexTV plays back high definition content beautifully. Whether stored on USB thumb drive, removable hard drive or streamed over the LAN, HD movie playback is smooth and defect free.
A word of note, the aspect ratio may chnage between different movies and may require you to adjust the GoFlexTV's settings before the screen displays correctly - that option is found under Menu>Settings>Video Settings.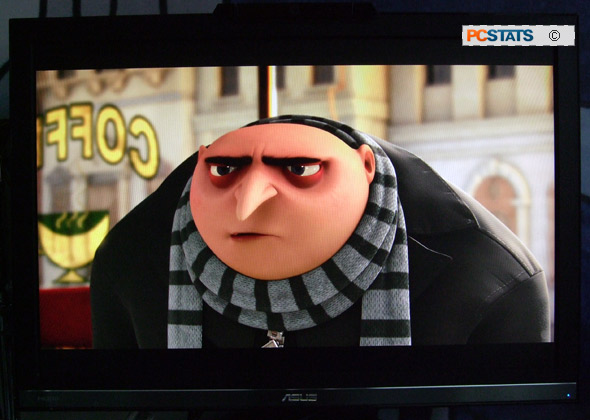 An example of 1080p high definition playback over HDMI cable - Dispicable Me, 1080p, QuickTime format.
Digital Content: Pictures
If you're looking for a way to bore your relatives with 2,000 photos from your last vacation to upper-lower-Mongolia, the GoFlexTV HD will let you set up slide shows with a variety of transitions between the images.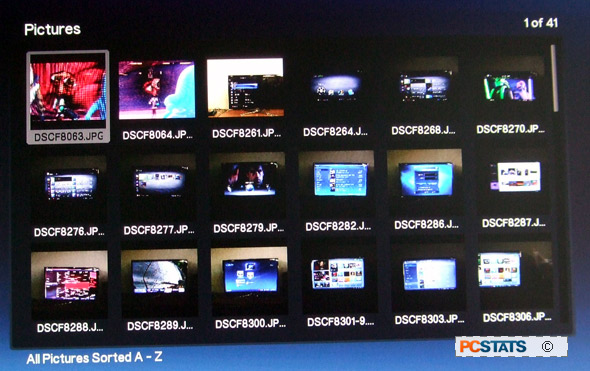 Example index of photos
Digital Content: Music
Music playback is good, but finding individual songs and creating play lists is not as easy as with a standard desktop. This is a pretty common issue with media players of all types - when the content exceeds thousands or tens of thousands of individual files, it gets hard to navigate with a basic remote control. PCSTATS found it easiest to set up play lists before hand, then copy that data along with the MP3's over to the device.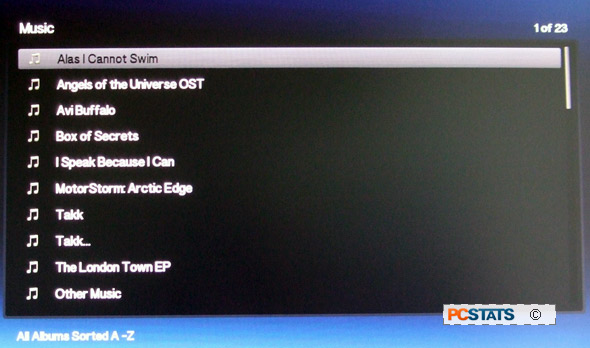 Example music folder indexing, listing by album title.
Conclusions: Useful within it's Limits
In one fell swoop Seagate have decimated the home theatre PC industry forever. For all intents and purposes, the GoFlex TV HD media player does everything a modern HDTV with a built in media player/networked media sharing functionality does. If you own a newish HDTV with AnyNet or a similar built in media player, you really don't need a device like the GoFlex TV HD. If your HDTV doesn't have an embedded media player, the benefits of owning a GoFlex TV media player will rapidly become apparent.
The device is a great way to retrofit older televisions or early model HDTVs which lacked the ability to digest digital content. For all but the most hard core home theatre enthusiasts, the GoFlexTV HD will completely side step the need to watch movies from a PC.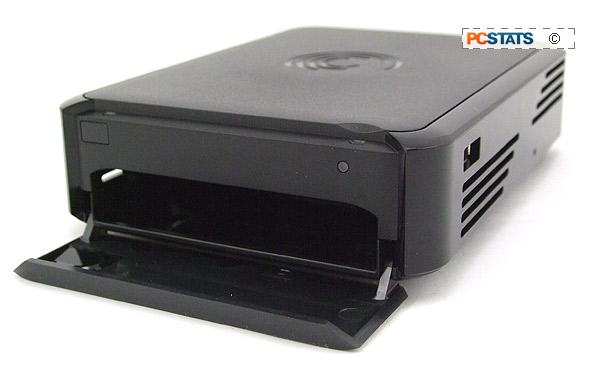 Best of all, if you have one of Seagate's portable GoFlex FreeAgent Ultra-Portable 2.5" hard drives you can load that disk full of GB's of content from your primary PC, and simply pop the drive into the dedicated hard drive docking port in the GoFlex TV media player for instant access to as much as 1.5TB of movies, music or photos.
The Seagate GoFlexTV is an incredibly handy little device that expands the usefulness of any HDTV built before network integration became common place. The device does have its limitations, but these are not deal breakers in PCSTATS opinion. Here are a couple limitations we observed while testing the unit:
- Not upgradeable like a Media PC; new media formats and codec support cannot be added
- Quickly searching through lots of MP3's is very slow, finding one specific song can be tiresome.
- In general, indexing lots and lots of content is the kryptonite of this device.
In use, we found the Seagate GoFlexTV HD easiest to use by loading in a 500GB Seagate GoFlex hard drive will movies and music. After loading the portable hard drive into the GoFlexTV HD media player, we were quickly able to view the digital content with a minimum of fuss. Running an ethernet cable to the Media Player and setting up a media share over the network would deliver the same content just as readily to the GoFlexTV, but would require another PC to host all that content. PCSTATS preferred the hard drive method because we could load the drive with just the movies and music that we wanted to watch. The menu system in the GoFlexTV is a bit sluggish, so navigating through too many files might be problematic if the folders and files are not clearly labeled.
If you're a technology enthusiast, you can think of the Seagate FreeAgent GoFlex TV HD Media Player like a silent mini home theatre PC system. If you're less technology obsessed, you can think of the Seagate GoFlex TV as a device to easily get your digital content from the computer onto the home television.