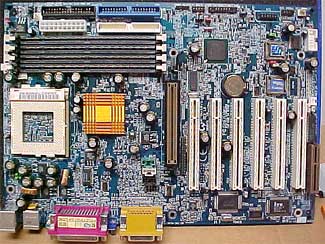 For the most part the components are laid out in a very accessible fashion. The two CPU fan headers are located tightly up against other components, but the system fan is easy to get at.
The AGP slot comes with the retention mechanism that is becoming standard on most boards these days. Although the RAM slots are still located too close to the AGP slot, I'm beginning to feel there is nothing that can really be done about this industry trend.
| | |
| --- | --- |
| The fan header is sandwiched inbetween the RAM slots and the socket 370 making it difficult to reach. | |
Four DIMM slots are a welcome site, and the IDE (ATA-100), floppy and ATX power headers are located in the typical fashion, right along side. The additional audio jacks are located to one side of the AGP slot. Often we have seen them placed in line with this slot. The end result being, when they are plugged in, the AGP card doesn't sit properly, or if it does, crushes the wires.
The CNR (communications network riser) slot is located at the very bottom of the board, I've never had the need to use this slot, but I guess some people would like to have the option. Finally we see the i815 chipset and the industry standard cheap gold BGA chipset cooler glued on. There really has to be a better way to cool the chipsets than with these crappy heatsinks.
MEMORY
With four DIMM slots to its name, visions of Gigs of memory are dashed by the reality that only 512MB are in fact supported. PC100 or PC133 is fine, so long as they are 3.3v SDRAM modules. I guess Gigabyte assumes that with all the included features there is no way any high level uses of this board will occur.
Maybe they have a study which shows motherboards with onboard video & sound only end up in the hands of users who never ever use more than 512MB of memory for their applications.....
AGP slot:
The GigaByte GA-6OXM7E (they really need to think of a better name) features onboard video and an AGP 4X slot for a higher end GFX solution. An AIMM display cache expansion can inserted in the AGP slot if so required.
When an AGP card is dropped into the slot, the Direct AGP system is disabled automatically. With the increasing abundance and slowly decreasing prices of Flat Panel Displays, it's good to see that FPD's are supported here on the motherboard as well.