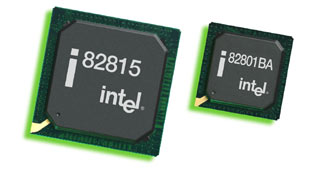 Back in the day of the venerable 440BX chipset things were good, overclocking was easy and performance solid. Today with the addition of the Via Apollo 133 and i815E chipset things are starting to get confusing again.
This board is based upon Intel's answer to the VIA Apollo, the i815E AGPset. i815E provides support for PC133 memory, 133FSB's and FC-PGA based processors. This flavor of the i815E chipset comes with a few increased capabilities including; ATA-100, up to four USB ports (with 24Mbps data transfer across the four ports), integrated LAN, and six channel sound. All these features are supported by the GA-6OXM7E. The i815E chipset incorporates the ICH2 82801BA enhanced I/O Controller Hub.
ONBOARD FEATURES
Utilizing AC97 and Creative's CT5880 chipset sound is brought to life in no less than six channels. Using SoundBlaster PCI128 you have the ability to configure the sound to surround, and enhance your fragging experience. The only catch is the particular programs must support DirectX and Creative EAX. Jacks for "Audio In" from a CD-ROM, Modem and Auxiliary device are located directly behind the multimedia port and external audio jacks, as is a set of jumpers for front bezel mounted Audio jacks.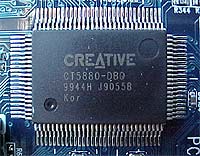 Additional USB ports are a welcome sight if there ever was one, sadly the extra ports didn't actually ship with this board.
With three fan headers there is certainly enough room for a single socket 370 motherboard. Even with the largest socket 370 coolers, it is rare to see more then one fan attached. I suppose two of the fan headers will find more use cooling additional GFX cards or whatnot.
A little integrated LED on the corner of the board by the RAM slots reminds you that power is still flowing though the four-layer PCB, should you forget momentarily.
DUAL BIOS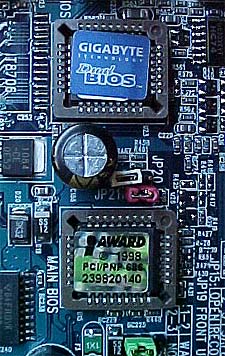 Why have a dual BIOS? Well, if you have ever fried you BIOS the answer is an easy one. Fried or corrupted BIOS chips translate into headaches for both the end user and the company's which distribute the product. It costs them time and materials to reflash, or replace damaged or non-functioning BIOS chips.
With the sweeping overclocking movement occurring, more and more 'accidents' are occurring, with two BIOS chips, the failure of one results in an immediate switch to number two!
If one BIOS goes down, the remaing BIOS can reflash the first and effectively repair the damage caused.
Some careful coding has been created so that only the working BIOS can flash the corrupted one, which is a good thing. :) Lastly, assuming you ever need to, you have the ability to upgrade to a 4Mbit BIOS if more storage is needed.