The CD included along with the Gigabyte GA-6OXM7E comes with the following goodies in addition to the meat and potatoes i815E drivers, INF update, and ATA66 drivers. Audio drivers for the integrated Creative 5880 Soundblaster PCI128, drivers for Intel and RealTek series NIC cards. A whole wack of utilities such as; Norton AntiVirus 2000 SE, Norton Utilities 2000 SE, Acrobat 3, DirectX 7, MediaRing Talk99, Gigabyte Utility Manager, LDCM 6, BIOS writer, and EasyTune III.
Benchmarks:
Before we take a look at our overclocking results, let's take a quick peek at the results Sandra shot back at us for this board. For testing we used a PentiumIII 700Mhz FC-PGA processor, 128MB of Semicon PC133 RAM, and a 5400RPM Maxtor and the onboard video. From what Sandra shows us, the memory benchmarks are lower than the reference, while the multimedia values are fairly high.
CPU Benchmark 700Mhz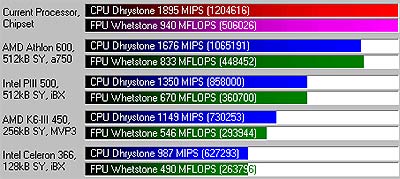 Multimedia Benchmark 700Mhz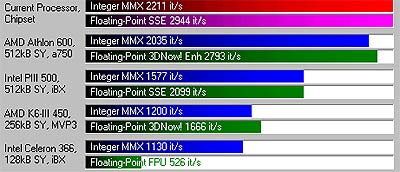 Memory Benchmarks 700Mhz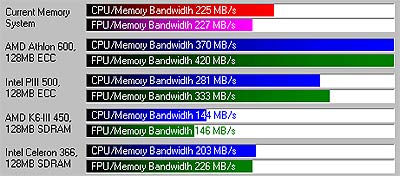 The results of Sandra's tests show, for the most part values above that of the reference systems. Now onto the fun part, overclocking!