Naturally the CUV4X comes with one Socket 370, socket, as well as 3 DIMM sockets that support SDRAM modules ranging from 8MB all the way up to 512MB (maximum of 1.5GB.) SDRAM support is pretty extensive, PC-100, PC-133, and HSDRAM are supported.

Future expansion is very important to many computer users, and the CUV4X does not disappoint. 1 AGP Pro slot (4X compliant) is provided (for highend video cards, basically power hungry ones,) 5 bus mastering PCI slots, as well as 1 ISA slot (for those pesky old modems,) and 1 AMR slot.

External ports are essential, so until we develop ESP techniques to control our PC's with just our minds, we'll be needing the included PS/2 ports (2, one for the Keyboard, and one for the mouse.)
There is also 1 parallel port for printers, 2 serial ports (one is "external",) there are two onboard USB ports, as well as the option to add two more with the included USB port adapter (via a cable, similar to the second serial port.)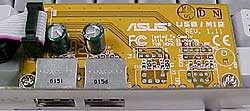 Having the extra 2 USB ports may be a Godsend to some people, such as myself, because I have 3 USB devices with only 2 ports to plug them into.
The onboard sound option is quite attractive for people wishing to build light multimedia workstations, or whatnot. There are 3 'Soundblaster' style connectors on the motherboard for CD-Audio, modems, and TV-tuners.
While the onboard sound is never horrible, it's not a SoundBlaster Live! Platinum in terms of flexibility, and quality. Nonetheless you can disable the onboard sound and go with a higher end soundcard if you wish to do so. Needless to say all of the ports are colour coded to meet PC'99 specs (so that you can not confuse a printer port with a PS/2 port.)
There are two dual channel IDE ports on board that support ATA/66 transfers. Additionally there is the standard floppy drive port. The CUV4X also provides a some useless ports, we have the Wake-On-Lan header, and a Wake-On-Ring header. A closer inspection of the motherboard reveals the LED to indicate that the motherboard is receiving power, as well as a tiny cmos speaker.
Fan enthusiasts will be happy to see that there are three, 3-pin fan headers. One of them is for the CPU, the other two are obviously for chassis fans. The motherboard has many well placed (smart design) capacitors on the motherboard to improve stability, and gives it the "professional" look that some motherboards lack.
Here are the official Specs from Asus, just in case we have forgotten to mention one tiny detail...