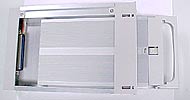 Remove the caddy from the rack.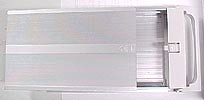 Slide the protective cover off of the caddy.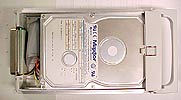 Insert the hard drive into the open caddy and connect up the UDMA IDE cable and Molex power to the drive.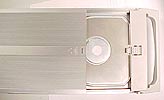 Replace the cover and slide it closed. Done!
The docking station fits into any standard 5.25" bay and secures with a standard compliment of screws. The back of the unit accepts a standard 40pin IDE cable and Molex power connector. The power supports the drive, a small 40mm fan and a few drive activity LED's on the front of the unit.

All that remains is to pop the caddy into the docking station and turn the computer on. The one catch is that the unit must be locked down before the computer will be able to access the drive, or for that matter power will go to the hard drive.
This is a safety feature to prevent someone from mistakenly pulling out a live hard drive, possibly resulting in corrupted data. The lock controls the hard drive's electrical supply and also physically locks the drive caddy into the unit.