You might wonder how much of a good idea it is to have an easily removable connection, connecting up your harddrive. While the convenience and ease of accessibility is a plus, what kind of connectors are now responsible for the harddrive properly operating? For instance, what good is having a removable drive if the connection is shoddy and the drive never works, or data becomes corrupted through corroded pins, or an improperly seated drive caddy? Thankfully these concerns appear to have been addressed in a much more through manner than the other removable hard drive rack we've looked at - the plastic hard drive rack.
With the entire unit made from extruded aluminum, the tolerances are fairly tight, and a brace at the front of the unit helps to keep it that way. The manufacturer has also managed to introduce a few subtle features that ensure a proper connection between the caddy and rack every time.
For instance the connector is an old 50-pin SCSI/printer jack with gold plated connectors to reduce the concerns associated with corrosion. But what if the caddy isn't pushed all the way back into the socket you ask?
Well, another feature ensures that this cannot happen. To install the caddy in the rack, the handle must be up. It is this way so that a caddy can lock into a cog on the side of the rack's frame. As the handle is pushed down in the final moments of insertion, the cog kicks in and forces the caddy to sit properly in the SCSI/printer socket. If the handle is not down the unit is not properly installed.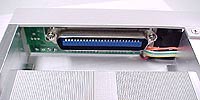 The connector on the back of the rack handles both the data-flow from the drive and the power to the drive, all of which flows through the one socket.

The back of the caddy has the male end of the socket, which enables data-flow and power to reach the drive via a UDMA IDE cable.

A small carry handle makes transporting the caddy a breeze. It also ensures that when the caddy is being inserted into the rack, the connection is positive and proper the first time.

The caddy, properly inserted into the drive is securely connected. For the drive to become operational however, the lock must be engaged. If it is not, the unit will not receive power, and will not be detected by the system.