Playback of CD's and CDRW's is fine, but, and this is a big BUT, "ESP" is nonexistent. The player skips at the slightest movement. Pick it up and put it down - skip, carry it around with you - skip. I would have to say that the DAV309 has one of the worst "ESP" features I have ever seen, if indeed it's even on. The instructions say nothing about activating or deactivating the feature so I'm assuming it is always on. When it is on a stable base, sound quality is fine, and the extra BASS feature is a welcome option.
Removing a CD from the spindle hardly seems like its even worth mentioning, but here again we see a problem with the design of the DAV309. The CD rotates about 1.25mm above the surface of the pay mechanism, and trying to remove a CD from an almost flush surface that remains connected to the spindle is not a simple task if you have anything other than the most tiny fingers. A depression in the plastic would have made removal 10 times more convenient.
Conclusions: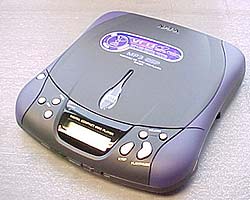 All in all we were very disappointed with the NAPA DAV309 CD/MP3 player. It looks amazing in pictures, and the outward design of the unit is eye-catching and very attractive, but the features, usability, and even documentation are just so lacking that it has the feel of a freshly painted shell of a junk-yard car in one of those 30-min infomercials.
That said, a distinction should be made between portable use of this unit - which would just be frustrating beyond belief because of the skipping problems, and use in a stable home-entertainment setting. In the latter circumstance the unit will fair just fine, it will play the MP3 laden CDRW's without cause for concern, in addition to CD's and VCD if they happen to be available in your area.
The best part of the NAPA DAV309 is sadly how it looks. I freely admit that I had a lot of presumptions about its performance based on its outward appearance... it just looks really cool. Now if only we bought CD / Mp3 players for their looks.