Abstract: Who doesn't like to see the coolest gadgets to hit the high-tech market? I know we do! We've compiled a gallery of the coolest innovations that caught our attention at COMDEX 2000.

Home > Reviews > Computer / SFF PCs > Comdex 2000
Toshiba browsing pad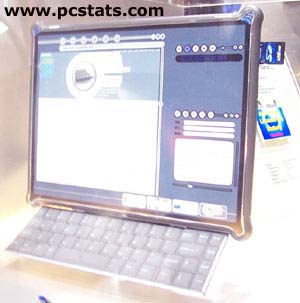 A shot of the Toshiba "Browsing pad" hints at just how thin the entire device is. Utilizing the Advanced Lithium-ion battery system, the entire unit, and all its components fit in behind the screen to yield one large flat panel screen sized computer.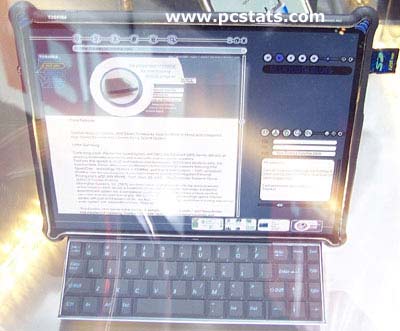 This prototype non-functioning "Browsing Pad" from Toshiba is based around integrated SD memory modules. Other than the LCD screen there nothing more to this little computer. The keyboard folds up under the unit to create one slim profile. With the keyboard in recessed position the screen can be used as a touch pad (if I remember correctly).
SEARCH PCSTATS

---

Use the power of Google to search all of PCSTATS and the PCSTATS Forums. Tell us what you think of this new feature - FEEDBACK?