Abstract: Who doesn't like to see the coolest gadgets to hit the high-tech market? I know we do! We've compiled a gallery of the coolest innovations that caught our attention at COMDEX 2000.

Home > Reviews > Computer / SFF PCs > Comdex 2000
TV remote with display
Toshiba had a few radical concept designs of its own to show off, including this "interactive remote". If this ever hits the market there will be many a fight for what could possibly be "the ultimate TV remote" - Bluetooth enabled no less. To satisfy the 'clickers', who chew through channels in one second intervals, a built-LCD screen displays the channels on the remote it self.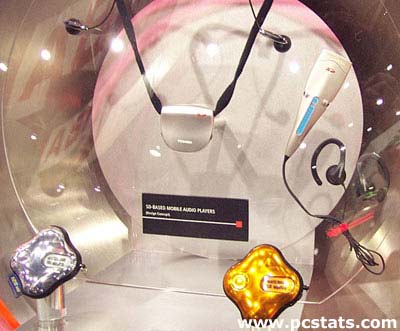 In another little plexyglass bubble a range of SD-based MP3 players were displayed. Still in the non-functioning concept stage, the units in the lower part of the picture have the look of high tech doorknobs - rather cool door knobs if we don't say.
SEARCH PCSTATS

---

Use the power of Google to search all of PCSTATS and the PCSTATS Forums. Tell us what you think of this new feature - FEEDBACK?