Abstract: Who doesn't like to see the coolest gadgets to hit the high-tech market? I know we do! We've compiled a gallery of the coolest innovations that caught our attention at COMDEX 2000.

Home > Reviews > Computer / SFF PCs > Comdex 2000
Prototype IA devices
LinkSys - Webpad prototype
---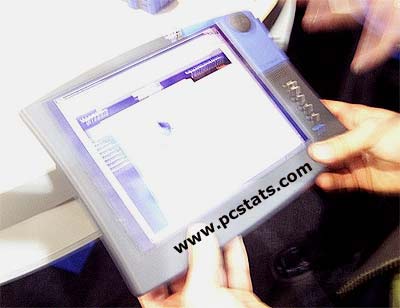 The details are incredibly slim on this non-functioning WebPad prototype from LinkSys. What we can say (and what our blurry photo conceals) is that the device is less than an inch thick, designed to operate on a wireless LAN, and utilize a touch screen.
Internet appliances were down in numbers at COMDEX this year, but this unit sought to change all of that. Using a very tiny (maybe 6" x 9" x 3") package and all in one motherboard this small box incorporates processor, network card, video, and audio features in one book sized unit.
SEARCH PCSTATS

---

Use the power of Google to search all of PCSTATS and the PCSTATS Forums. Tell us what you think of this new feature - FEEDBACK?