Abstract: Who doesn't like to see the coolest gadgets to hit the high-tech market? I know we do! We've compiled a gallery of the coolest innovations that caught our attention at COMDEX 2000.

Home > Reviews > Computer / SFF PCs > Comdex 2000
New heatsink concepts
Thermaltake - Custom Heatsinks
---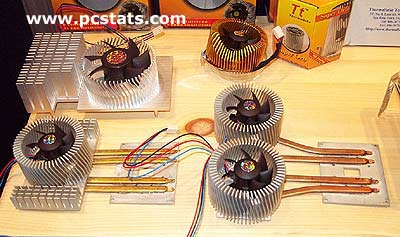 No these are not Thermaltakes newest heatsink incarnations. They should be... rather they are custom solutions designed by the company for various server and industrial applications. They look rather cool don't they!
Power Cooler - New Style Heatsinks
---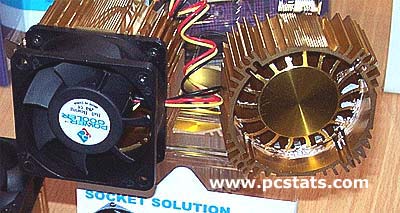 Heatsink innovations always take things in new and exciting directions. In this case, a company called Power Cooler has developed a cylindrical shaped cooler with integrated fan that harks back to the designs of Thermaltakes Orbs. Major differences exist of course, and the two types of coolers are in no way similar. The PCH113 measures 60mm x 60mm x 25mm, incorporates a 18CFM fan, and can apparently handle an Intel Pentium III 900mhz or AMD 1.3Ghz chip.
AOC - New Style Heatsinks
---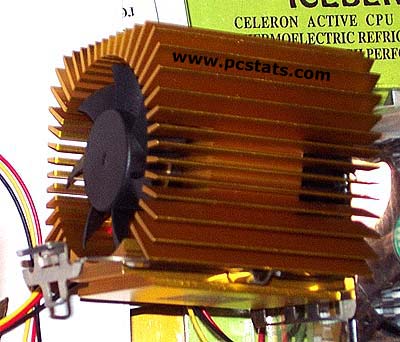 In comparison to the offerings by companies like Power Cooler and Thermaltake, AOC have developed this unique solution to cooling. By incorporating no less than two fans which sit perpendicular to the core of the processor the goal of this cooler is immediately obvious. Bring the heat up and away from the core, spread it around with the help of a hefty aluminum slug, and cool things off with an abundance of fins and dual fans. If that description isn't quite clear enough, just imagine a Golden Orb tipped on its' side with a base plate attached and you've got the right picture.
SEARCH PCSTATS

---

Use the power of Google to search all of PCSTATS and the PCSTATS Forums. Tell us what you think of this new feature - FEEDBACK?