Abstract: Who doesn't like to see the coolest gadgets to hit the high-tech market? I know we do! We've compiled a gallery of the coolest innovations that caught our attention at COMDEX 2000.

Home > Reviews > Computer / SFF PCs > Comdex 2000
Sony's VAIO desktop music station
Sony - VAIO Desktop Hybrids and Prototypes
---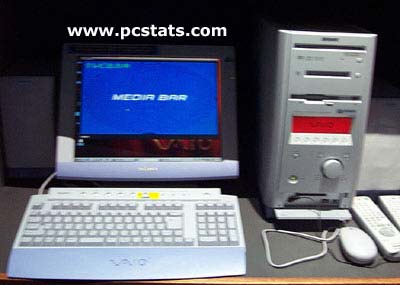 This VAIO desktop PC is still in the prototype stage, though the unit we saw was in full working condition. Primarily meant for the Japanese market the computer is designed to bring together several entertainment appliances into one box. By melding computer, stereo, and DVD player into one machine, the user has better control over all units, and in space conscious Japan, more room for themselves.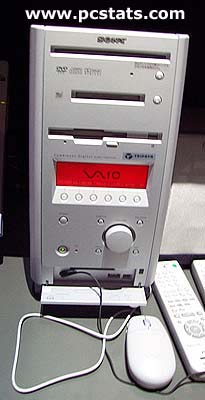 A closer view of the VAIO 'Music Station' (the unit is so new a name as not yet been chosen) shows integrated CD/DVD player, MiniDisk player, standard Floppy Disk, built-in stereo with controls and backlit display. The stereo component, and kick-ass computer speakers run off a separate power supply than the computer components do. To make life easier for the user, all common jacks (audio, PCMCIA - for wireless LAN card perhaps, and FireWire / USB) are located at the front, hidden by a small fold-down panel. Volume control is also located directly below the stereo control display. If it makes it to North America, you may be able to get this computer by Q2, 2001.
SEARCH PCSTATS

---

Use the power of Google to search all of PCSTATS and the PCSTATS Forums. Tell us what you think of this new feature - FEEDBACK?