Abstract: Who doesn't like to see the coolest gadgets to hit the high-tech market? I know we do! We've compiled a gallery of the coolest innovations that caught our attention at COMDEX 2000.

Home > Reviews > Computer / SFF PCs > Comdex 2000
Sub-notebooks and the tablet screen VAIO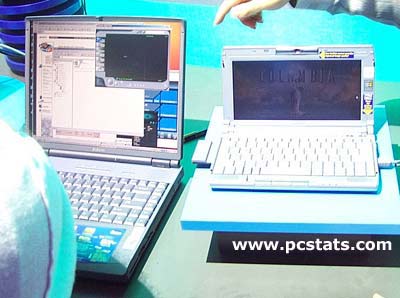 Notebooks and ultra portable sub-notebooks were probably the biggest region of interest at COMDEX this year. In this instance we could see one of the new VAIO notebooks (on the left) and the much talked about VAIO C1VN - the worlds' first Transmeta Crusoe based computer to hit retail shelves. Shown here connected via wireless LAN, we were able to get a hold of one of the units to test out for a few minutes. While the keyboard takes a few seconds to get used to, the Crusoe-based C1VN never gets more than just warm, a big difference from its Intel-based counterparts.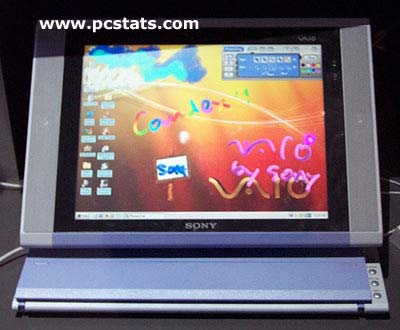 Probably one of the coolest VAIO devices to make its debut at COMDEX was this tablet-flat screen hybrid. In normal situations when using a tablet an artist draws blindly on the tablet and looks at the screen. In this fully-functional prototype, an artist can draw directly upon the screen by use of a stylus, see the effects, and make instant changes. The stylus can of course write on the screen as the above picture demonstrates, but an "eraser" attachment also enables instant erasing. A protective cover over the keyboard gives support to the wrists, and additionally folds into itself to give wrist support while typing is being done. Unfortunately the unit is desk-bound, and not designed to be held in the lap. Sony tells us they expect this VAIO to hit stores by Quarter 1, 2001.
SEARCH PCSTATS

---

Use the power of Google to search all of PCSTATS and the PCSTATS Forums. Tell us what you think of this new feature - FEEDBACK?